No New Zealand trip is complete without some mountains, and what better place to see some of the most impressive than Mount Cook village?
This tiny village of around 250 people is situated in the Aoraki/Mount Cook National Park in the South Island, surrounded by domineering mountains and alpine scenery, and only 15 kilometres from New Zealand's highest peak, Aoraki/Mount Cook of course!
There are so many exciting things to do in Mount Cook that it's definitely worth a stop on your New Zealand itinerary!
Why is it called Aoraki/Mount Cook?
Mt Cook was named so in 1851 by Captain John Port Stokes, who was involved in surveying New Zealand, after Captain James Cook, who was the first to circumnavigate and map New Zealand in 1770.
Aoraki (sometimes spelt Aorangi) is the historic Maori name of the peak and was officially added to the name of the peak, the national park, and the village in 1998.
Accommodation in Mount Cook
Mount Cook village is a small settlement allowed within the National Park for the people working there. It even has its own school for workers' children!
As for visitors' accommodation in Mount Cook, you have a couple of different options.
The Hermitage
The iconic Hermitage Hotel has been a staple in the Mount Cook National Park landscape since 1884 when the first incarnation was built.
He sold his accommodation on to the Mount Cook-Hermitage company, who would bring visitors on a three-day horse-drawn coach journey from Timaru.
After a car service was introduced in 1906 the Hermitage couldn't keep up with the demand for accommodation and a second hotel was built in 1914.
The present Hermitage Hotel was built in 1958 after the second one was burnt to the ground, and has been extended several times.
It has several different options for rooms, and restaurants, plus has become a hub for tourism in the area, running many of the activities in Mount Cook. Check prices here.
Mount Cook Lodge & Motels
The Mount Cook Lodge also has a range of accommodations, with studio motel units, backpacker dorms, and self-contained triangle chalets near the Hermitage.
The two times I've stayed in Mount Cook, it's been at the Chalets, which I love! Check prices here. 
DOC Huts
The Department of Conservation (DOC) manages over 950 backcountry huts across New Zealand.
They usually require at least several hours of hiking to reach and have fees depending on the facilities they offer.
While I wouldn't count on these as an accommodation option, if you're an avid hiker and planning to do some of the tracks with a hut along the way, you could consider it.
For example, Mueller Hut is a 28 bunk hut in the Mt Cook area that can be reached in a 4-hour one-way advanced hike. You do need to book in advance from November to April if you plan to stay there.
How to get to Aoraki/Mount Cook
The closest international airports to the Mount Cook area (the Mackenzie Region) are Christchurch and Queenstown at around 2.5 hours drive from each.
Many people travel New Zealand as part of a larger road trip in the North Island and the South Island.
We included it in our South Island itinerary as we travelled back from Queenstown to Christchurch for our flights out, or you could stop by on your way to Queenstown if you're going there first.
Things to do in Mount Cook
Around Aoraki / Mount Cook Village itself, there are plenty of things to do, mostly outdoors of course! Here are some options to get you started with planning your visit to Mount Cook National Park.
Hiking around Mount Cook
One of the best things to do in Aoraki Mount Cook is go hiking! Or tramping, as we Kiwis like to call it. There are plenty of walks in the area for all different levels of experience and fitness.
Short Walks
Fairly easy walks suitable for families:
Bowen Bush Walk – An easy 10-minute loop track through a forest with some mountain views starting across from the Alpine Centre
Glencoe Walk – An easy 30-minute return walk starting behind The Hermitage, with views across to the Hooker Glacier and Aoraki/Mount Cook.
Governors Bush Walk – 45-60 minute return (1.5km) walk ideal for children to explore the natural landscape through a beech forest.
Day Walks
Slightly longer walks where you may want to take a picnic lunch and may involve some inclines:
Hooker Valley Track – 3 hours return on a relatively flat walk to view Mueller Glacier, Hooker Lake, and Aoraki/Mount Cook.
Kea Point Track – 2 hours return from the village or 1-hour return from the White Horse Hill campground and carpark. The walk ends at a viewing deck with stunning views.
Red Tarns Track – 2 hours return to the Red Tarns (small mountain lakes) with spectacular views across the valley, of Mount Cook Village and Mount Cook.
Sealy Tarns Track – 3-4 hours return, a steep climb to a small alpine lake with beautiful views You could also look at doing the Mueller Hut track which is 4 hours one way to the hut, so best split over two days with a night in the hut. Just remember to book in advance!
Sir Edmund Hillary Alpine Centre
A tribute to the late Sir Edmund Hillary, the first to climb Mount Everest along with Tenzing Norgay from Nepal, who dedicated his life to the mountains and humanitarian causes.
The centre tells the history of the Aoraki Mount Cook region, the people, and Edmund Hillary. It includes a 3D movie about Mount Cook and a Planetarium.
Other Visitor Centres & Museums
Check out the Department of Conservation Visitor Centre to learn more about the area, and visit the small gallery and alpine museum inside the Old Mountaineer Cafe for a real slice of Kiwi history.
Big Sky Stargazing
The Aoraki Mackenzie Dark Sky Reserve is the one dark sky reserve in the southern hemisphere. You can take a tour that includes visiting the Planetarium at The Hermitage followed by a visit to the reserve itself. Or take a drive on a clear night!
Glacier Kayaking
Instead of just walking the Hooker Valley track why not kayak Mueller Lake too? If conditions are right you'll be kayaking alongside icebergs in the shadow of the mighty Mt Cook.
Cycle the Alps 2 Ocean Trail
Stretching from Aoraki Mount Cook National park to the coastal township of Oamaru, the takes 4-6 days for the entire ride but can be done in sections.
The first two sections towards Twizel are considered to be of easy difficulty and pass through the beautiful scenery of the national park and surrounds.
Explore the Tasman Valley
The Tasman Glacier is actually the largest in New Zealand, although, like the others, it is receding rapidly, and could even disappear within 10-19 years.
Currently, there are still plenty of ways to see the Glacier, although these will likely become less and less.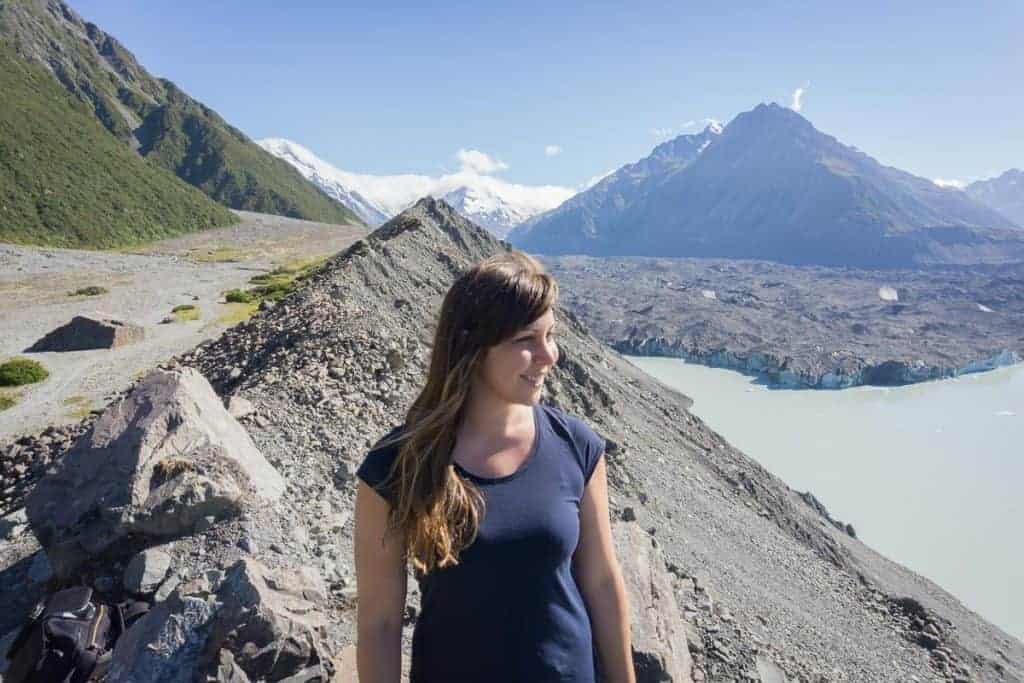 Blue Lakes and Tasman Glacier View Walk – This 40-minute return walk gives you a view of the Tasman Glacier. It is a gradual incline with steps.
Tasman Glacier Lake Walk – A one hour walk that branches off the Blue Lakes Track just past the shelter, and leads to a viewpoint of the glacier.
Kayak and Boat on Tasman Glacier – As with Mueller Lake, you can kayak alongside 300-year-old icebergs, or take a boat trip around the terminal lake. You can usually do this between October and May, depending on when (or if) the lake freezes over.
Ski the Glacier – It's possible to be flown higher up on the glacier and dropped off to ski down to where the aircraft will be waiting for you. Suitable for intermediate level skiers.
Tasman Glacier Heli Hike – Like Franz Josef and Fox Glaciers, it's possible to take a helicopter onto the glacier and explore the ice caves and crevasses (where safe). Views of the glacier from the walks mentioned above will often show it covered in a layer of dirt and dust, but higher up it will be white. The Heli Hike is weather dependant of course!
Ball Hut Route – This small three bunk bed hut can be reached via the Tasman Valley or the Sealy Tarns Track in 6-8 hour return walks.
4WD and Argo tours – We took a bumpy 4-wheel drive up al old track to view the Tasman Glacier from a much closer point than you can see on the above-mentioned walks. It was definitely worth it to see more of the Tasman Valley and learn about it from our amazing guide who was actually from Nepal and a friend of Sir Edmund Hillary.
Scenic Flights
It's possible to take flights in either a Ski Plane or a Helicopter above Mount Cook National Park and the surrounding areas, and even do a snow landing. You can check out tours here!
Experiences include flying around the top of Mt Cook itself, Tasman Glacier, and even over to the West Coast and the Franz Josef and Fox Glaciers with landings on the glaciers. The views are like something out of another world!
Mountaineering Courses
Experienced climbers may actually want to attempt climbing the peaks, but you can also try your hand at beginner and intermediate mountaineering courses at Mt Cook.
You'll learn technical mountaineering skills, how to keep yourself safe and get real experience in the surrounding mountains. Not for the faint-hearted!
Things to do near Mount Cook
If Mount Cook doesn't have enough for you to do, you can also venture out to see the surroundings!
Lake Tekapo
Lake Tekapo itself is a small town located on the beautiful blue lake of the same name. If you visit around November/December you'll see the beautiful lupin flowers along the lakeshore.
Lake Tekapo Jet Boat
Jet boating can be found all over New Zealand, so consider taking a jet boat across the beautiful Lake Tekapo while you're there.
Tekapo Springs Hot Pools and Day Spa
The Tekapo Springs has everything from Hot Pools to ice skating, star gazing, waterslides and a day spa. It's a great place for families or to spend a day relaxing.
Church of the Good Shepherd
This iconic stone church is surely in one of the most beautiful spots a church could be located. It's a favourite for weddings and holds interdenominational services.
If you enter to check out the gorgeous views from the back window be sure to leave a donation.
Lake Pukaki Hovercraft
New Zealand's only commercial hovercraft company operates on Lake Pukaki, the beautiful lake you drive past on your way to Mount Cook National Park.
It might be tempting to skip through the Mackenzie Region and Mount Cook National Park on your way to or from Queenstown, but there are so many amazing things to do in Mount Cook that you'd really be missing out if you did!
I loved our stay here, and I can't wait to go back and explore even more of the region next time I'm back home!
Sonja x
Read more about travelling around New Zealand:
If you liked it, pin it!