This post may contain affiliate links that I earn a small commission from at no cost to you. Please see my disclosure page for information. Please check for current circumstances before travelling.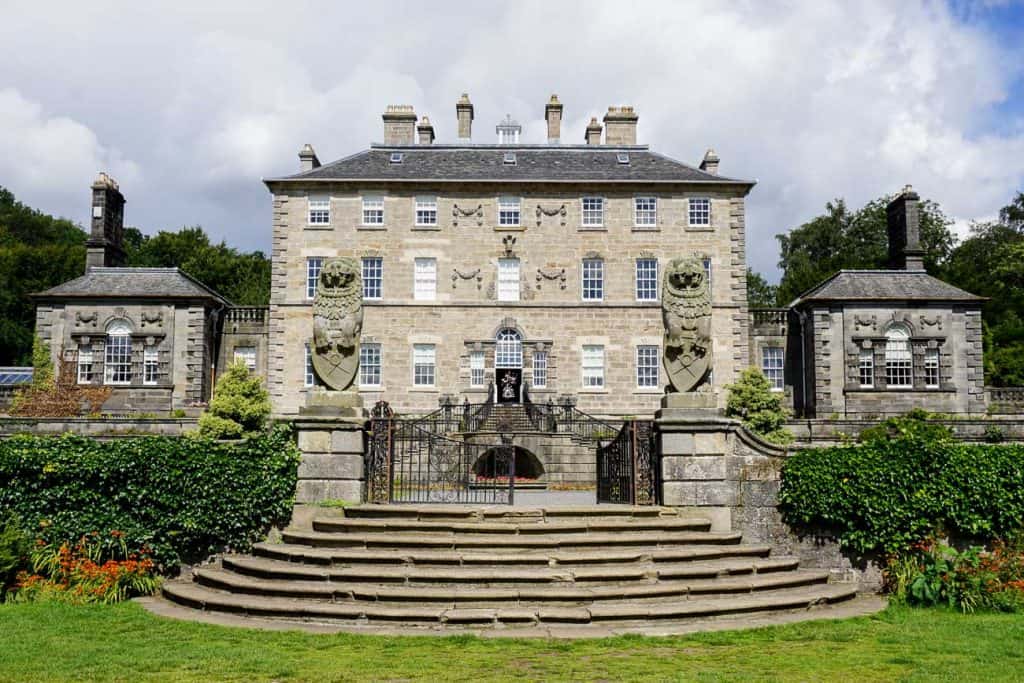 Pollok House, located near Glasgow, is a grand country home set in the beautiful gardens and grounds of Pollok Country Park. But it's also a historic property with a twist! The National Trust for Scotland has set up an Escape Room that's set in the former men's servant quarters, in theme with this period house.
If you've never heard of an escape room, it's like real life video-game, where you have a set amount of time to find clues and solve the puzzles within the room and "escape". I was particularly intrigued by the escape room at Pollok House, of the escape rooms in Glasgow, because of its unique location and premise. Most escape rooms are in older office buildings, or even flats, and can range in theme from cryptic spy games to escaping jail or robbing a bank. The Pollok House escape room is set at the turn of the 20th century and the story line goes with the house itself, making it an authentic adventure.
On a sunny Saturday morning, 3 friends and I decided to go to Glasgow to visit Pollok House and try out the escape room.
So, did we manage to get out? I'll reveal all in good time…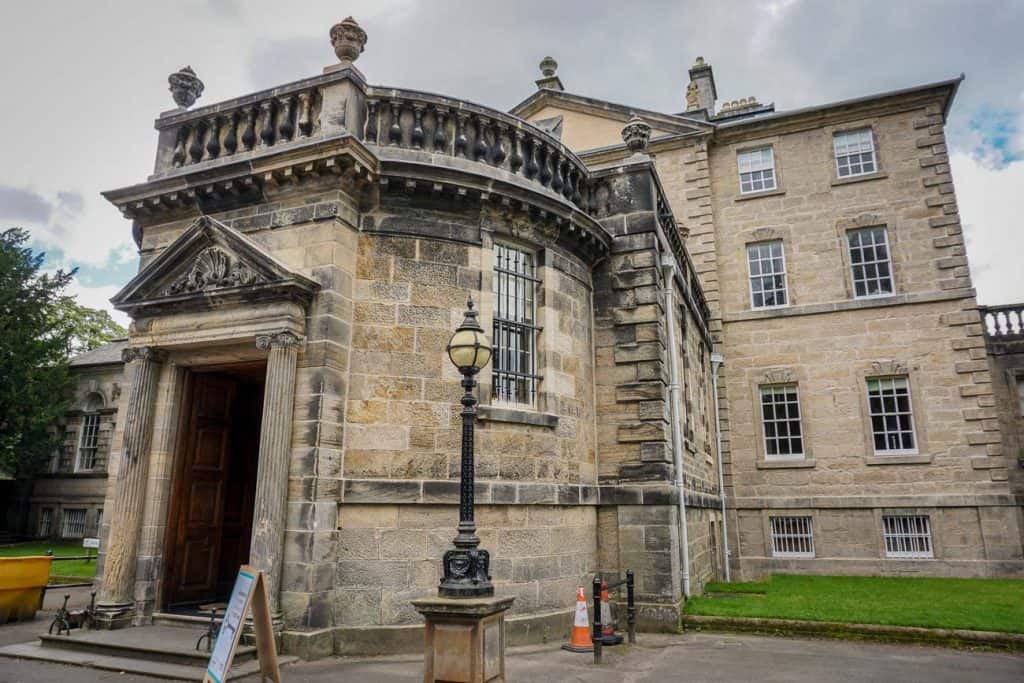 The history of Pollok House
Pollok House is a historic country house on the outskirts of Glasgow, where the Stirling Maxwell family lived for six centuries. The main part of the house was constructed in 1752 but added to in the early 20th century. It's a beautiful example of a grand Georgian country estate, complete with gorgeous gardens and lands that contain over 1000 species of rhododendrons and trees that are hundreds of years old (plus highland coos!). Pollok Country Park is a great place to visit if you're travelling with kids in Glasgow, or live nearby.
Pollok House itself is an interesting place to visit too. The luxurious upstairs of Pollok House was used by the family. It contains beautiful antique furniture and an extensive and impressive collection of Spanish paintings. The vast below-stairs where the 'Escape the Past' game takes place is also available for exploration. It was once the servants quarters, with up to 48 staff working for the family at its peak. You can also enjoy a bite to eat at the Edwardian Kitchen Cafe there.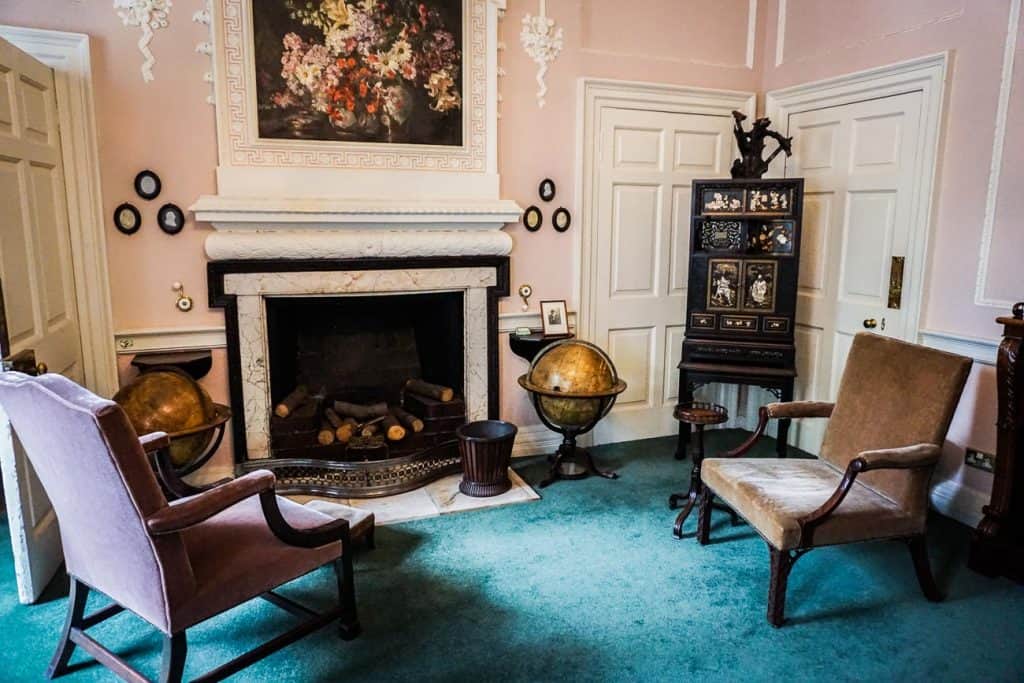 While Pollok House was once an ancestral home, it is now owned by the City of Glasgow and is managed by the National Trust for Scotland, a conservation charity organisation that aims to protect Scotland's treasures, from properties to lands across the country.
Pollok House actually plays a crucial part in the history of the National Trust for Scotland, with its cedar panelled smoking room providing the setting for the talks that established the organisation, back in 1931.
How to get to Pollok House
Getting to Pollok House is easy if you have a car. From Glasgow city centre to Pollok House is around 15 minutes drive making it a great place to visit from Glasgow, and the escape room easy to reach. From Edinburgh it took us about 1 hour 20 minutes. If you don't have a car it is possible to visit Pollok House by taking the bus for about 20 minutes from Glasgow city centre and then walking the last 15 minutes.
The Escape Room at Pollok House
Aptly named, "Escape the Past", the escape room at Pollok House is a time travel themed game where you're tasked with thwarting the Butlers evil plot to poison the family head of the house. The escape room allows for 2-5 players, and the whole experience takes around 90 minutes, with one hour allotted to solve everything and escape the room.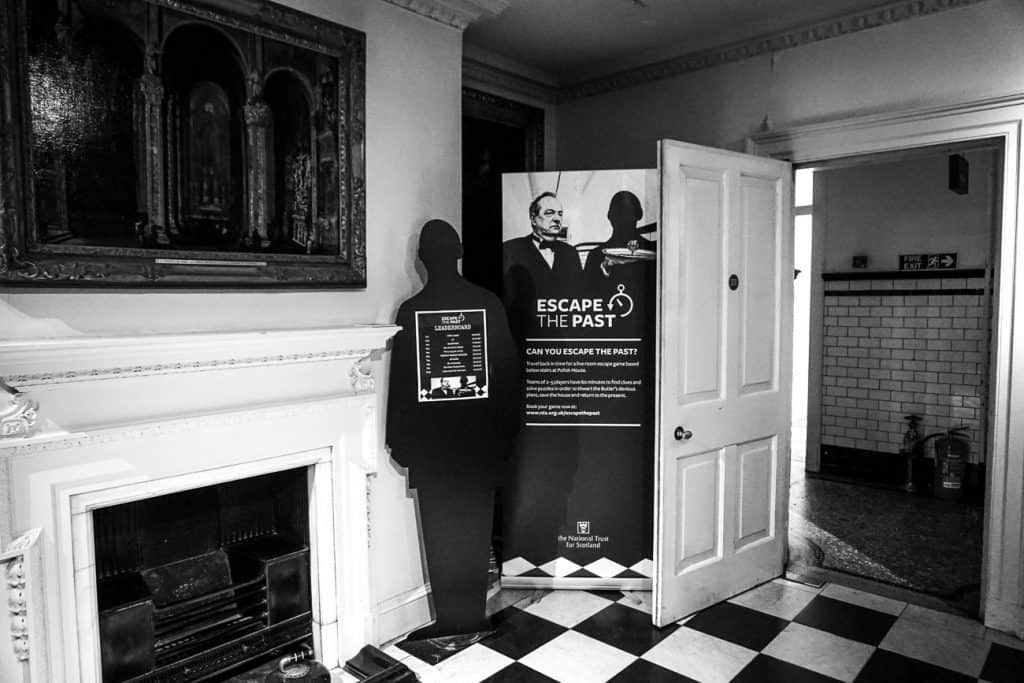 Our game master was Colin, and like all the other staff we spoke to at Pollok House, I was really impressed by his enthusiasm for the job and the historical building we were in. He set the mood for the Pollok House escape room by telling us a little of the history of the house and a fictional story that gave us our reason for needing to escape. We got into the spirit of 1907 by putting on hats and choosing names and positions we wanted within the household, which felt partly silly but also added to the fun. You enter the room with a countdown timer inside a briefcase and a pen and paper for notes, then it's up to you to decide how to begin your escape!
So did we get out and 'Escape the Past'? I'm very proud to say, YES! And with a time good enough to put us in second place on the leaderboard. Although I must give credit here to my teammates who solved most of the clues, while I wandered around pulling everything out that I could find that might be relevant and writing down anything I was told to!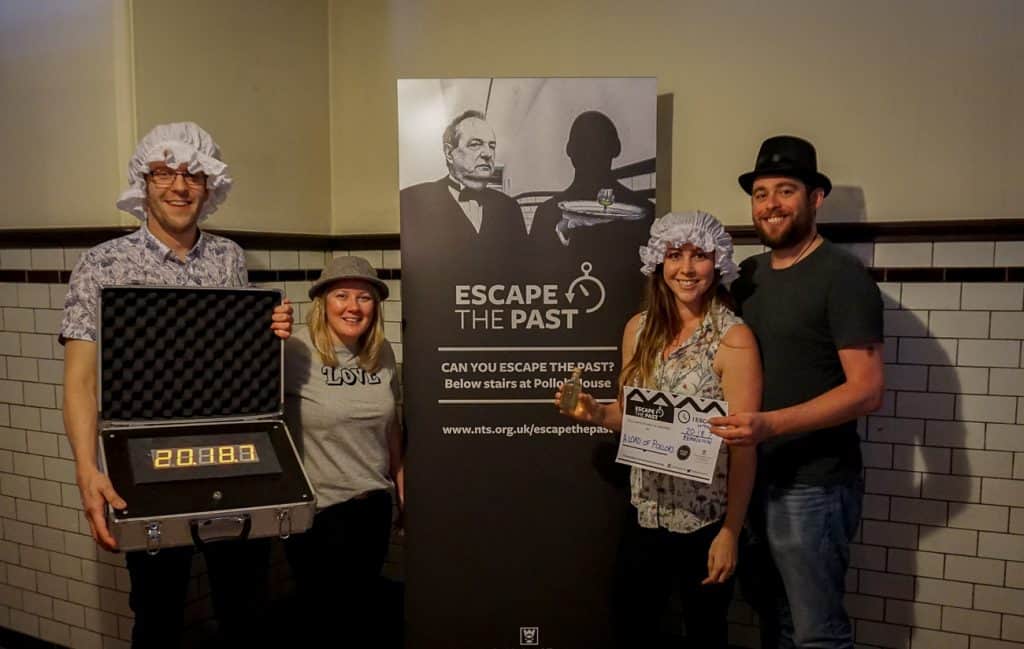 So how easy is the escape room at Pollok House?
Despite solving all the puzzles and escaping, we all thought the Pollok House escape room was definitely on the harder end of the scale. Around 200 groups have played "Escape the Past" at Pollok House and about 70% have completed it. Three of us on the team had completed escape rooms before, although only once and not any of the other Glasgow escape rooms to compare it to, and one person had never been in one before.
We all find that the first part of your time in an escape room you're sort of fumbling around trying to figure out what you're doing and then your head gets into it more and you start to find the rhythm of how the clues and puzzles work. Sometimes they can be more cryptic, and at other times they require a process of working through the task to get to the end result. The escape room at Pollok House definitely required some shrewd thinking!
I won't give away any of the clues and puzzles, but I think it does help to have a bigger group!
Would we recommend "Escape the Past" at Pollok House?
We all enjoyed our experience at the Pollok House escape room in Glasgow and found that working in a team of 4 definitely helped us to escape the room with a good time. We also made a day of it by visiting Pollok House and part of the gardens and Pollok Country Park.
One thing that really stood out to me about visiting Pollok House was the staff. As I already mentioned, they seemed to be genuinely enthusiastic about their job and the house. It was lovely to meet and speak with people who really care about you having a great experience on your visit, and I think they deserve a lot of praise for their work.
Also, I might be hooked on escape rooms now!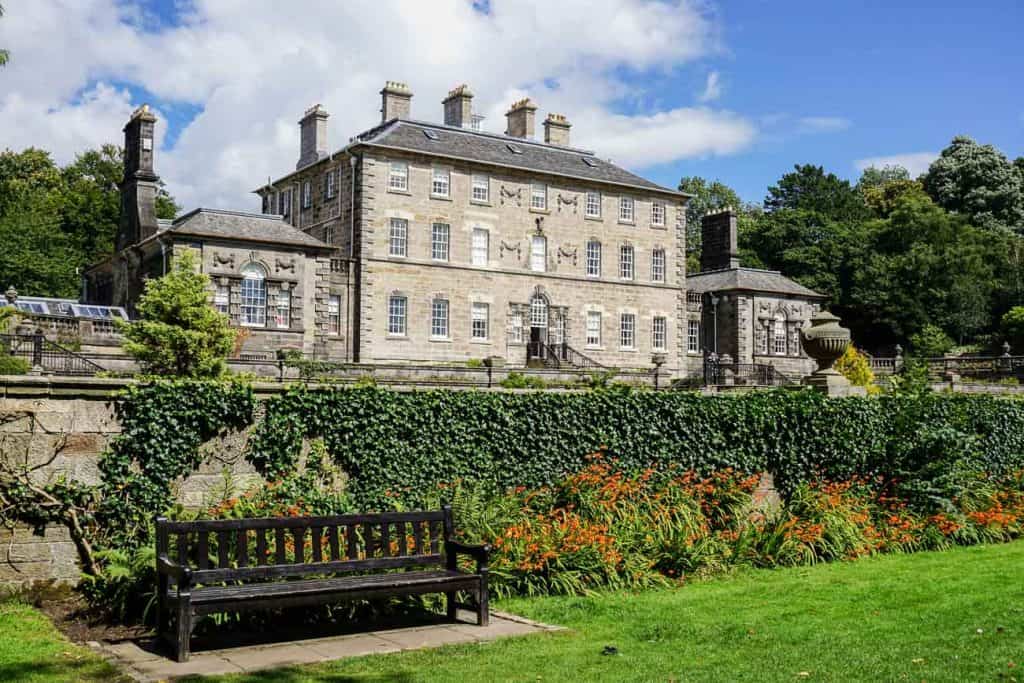 Have you ever been to an escape room in a unique setting, or a house like this?
Looking for more about Glasgow and Scotland?
If you liked it, pin it!
Disclaimer: I was provided complimentary access to Pollok House and the escape room in order to try out the experience, but as always, all opinions are my own.