The following is a guest post about how to have the best 4 day Paris trip by Sarah and Olivier, an English-French couple from Off the Tourist Treadmill. Their motto is "Pay less, Travel and Experience More".
Paris is a dream destination for many people travelling to and around Europe.
If you're wondering how long to spend in Paris, then four days in a great time to allow first-timers to see the best the city has to offer.
So we've created 4 day Paris itinerary to help you plan your best trip!
While it's easy to list all the places to visit in Paris in 4 days, it's also worth understanding how the city came to be as it is now and taking the time to wander around between the top things to do.
It is the river Seine that really gives Paris its cultural and romantic identity. The city as we know it today grew up from the "île de la Cité", an island nestled between the Rive Droite (Right Bank to the north) and Rive Gauche (Left Bank to the south).
Along both the Rive Droite and the Rive Gauche, you will find iconic monuments that have marked the history of Paris such as the Eiffel Tower, the Louvre and the Notre-Dame.
Between these two Rives, there are 37 bridges, the oldest one being the Pont-Neuf, which is ironic because 'neuf' means new in French!
All of these are sites that you should include in your first-timers itinerary of Paris in four days, and we'll go into more detail about how to fit them all in below. 
Getting to Paris and around
Getting to Paris really needs no explanation. There are huge numbers of long-distance international flights and many from within Europe.
The city has two main airports, Roissy Charles de Gaulle in the north and Orly in the south.
There's also Beauvais-Tillé Airport which is further from the city and serves budget airlines like Ryan Air.
It is also just over 2 hours by train from London, and well connected by train to other centres like Brussels and Amsterdam.
Once you're there, travelling around Paris is very easy if you understand how the Metro works. You can find a full guide to the Paris Metro here.
Itinerary for Four Days in Paris
What to do in Paris: Day 1
Start with a coffee
Start your day with a quiet breakfast in a small Bistro.
In Paris, there are plenty of quality Bistros everywhere. Make sure you ask for a Café Allongé if you don't like your coffee too strong; otherwise, you are going to have it Expresso-style.
The French always start their day with a nice coffee, so like me, you are now ready for the day ahead.
The Eiffel Tower
Next, head to the Eiffel Tower. The closest metro station is Champ de Mars/Tour Eiffel on line RER C. Other Metro stations close to the Eiffel Tower include Ecole Militaire on Line 8 and Bir-Hakeim on Line 6.
The Eiffel Tower was built by Gustave Eiffel for the 1900 universal exposition and was supposed to be dismantled afterwards because, at this time, the French disliked it very much.
However, Gustave fought hard to keep his tower and came up with the novel idea of using the tower as a radio transmitter. Consequently, the Eiffel Tower had a useful purpose, and the city of Paris kept it.
When you visit, be aware there is always a long queue to buy tickets. If you want to ascend the Eiffel Tower, we really recommended you buy tickets in advance online, otherwise take the stairs! You can climb the stairs until level 2, and from here, you can buy a ticket to carry on your visit.
The Louvre
Your next stop will be the Louvre and its Pyramids. The Louvre features a glass pyramid of 21m and forms part of the historical line with la Grande Arche and l'Arc de Triomphe.
You can go inside to visit the museum if you are interested in art. The only problem is that the Louvre is very big.
If it's not too busy, you can rush around the main artwork, but you can equally spend two days here as well. The closest Metro station is the Palais Royal – Musée du Louvre.
We also recommend buying tickets in advance.
Lunch at a Bistro
After visiting these Parisian landmarks, it will be time for a lunch break. As with breakfast, you can find a Bistro where you can enjoy a sandwich, charcuterie board or cheese board, which is always nice with some wine. Alternatively, you can head to a Brasserie for a proper typical meal.
Le Jardin de Tuileries and the Concorde
Afterwards, a nice way of relaxing is to walk in one of the most beautiful parks, Le Jardin de Tuileries, which once had the most flowers in the capital. If you carry on walking, you will arrive at la Concorde.
If you want to visit more museums, you can go to the Musée de l'Orangerie (impressionist gallery) or 7 Jeu de Paume (photographic museum).
Champs-Elysée and the Arc de Triomphe
When you are at the Concorde, you can see l'Arc de Triomphe.
Walk down Les Champs-Elysée, the most beautiful avenue in the world and enjoy some shopping.
Try and visit l'Arc de Triomphe just before sunset for an amazing view.
Take a boat down the Seine
When night falls, it's romantic to travel down the Seine in one of the Bateaux-Mouches but book in advance!
What to do in Paris: Day 2
Notre-Dame de Paris
Even today, l'île de la Cité remains the heart of Paris, and the closest Metro station is La Cité Line 4. Start in front of Notre Dame de Paris, which is an amazing medieval cathedral. Don't miss out on climbing to the top where you will come face-to-face with the gargoyles which line the cathedral's façade and its impressive bell. (Note: the Notre Dame is currently under reconstruction/restoration after a devastating fire).
Continue by visiting La Sainte-Chapelle where you can see impressive stained-glass windows.
Pont Neuf
Afterwards, walk to the edge of the island, and you will arrive at the square du Vert-Galant where you can find a view of the Pont Neuf which is the oldest bridge in Paris.
Next to the Pont Neuf you will find the Pont des Arts where lovers left locks as a sign of their enduring love, but poignantly they have now been removed thanks to concerns about lasting damage to the bridge!
Sacré-Coeur
Return to the Metro and head towards Montmartre to see the Sacré-Coeur. The closest Paris Metro stations to the basilica Sacré-Coeur are:
Abbesses – Line 12 (green)
Anvers – Line 2 (blue)
Lamarck Caulaincourt – Line 12 (green)
The Sacré-Coeur is a Roman Catholic church. The view from the bottom of the "Butte Montmartre" with the stairs is iconic and very nice to see. Take time to enjoy the atmosphere.
After visiting the Sacré-Coeur, wander around Montmartre with its small streets and the Abesses quarter which has a more authentic charm.
You can easily spend the evening here. There are plenty of restaurants but try to avoid Place du Terre as it's very touristic. Don't be afraid to get lost! This is when you will find amazing places which are off the tourist treadmill.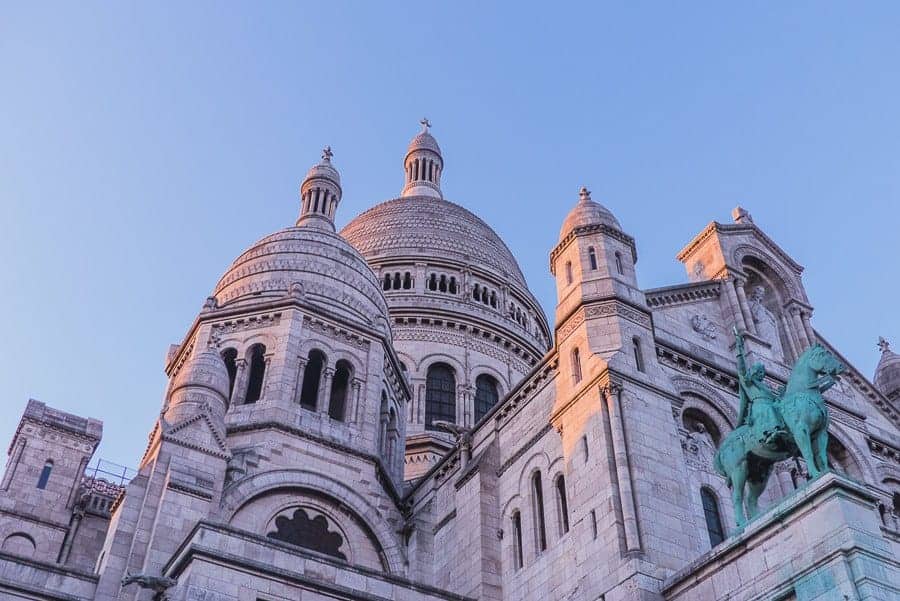 What to do in Paris: Day 3
Musée d'Orsay
Start day 3 of your Paris itinerary at the Musée d'Orsay, which was a railway station until 1900. Today, a museum has taken the place of this old station.
Visit the museum just for its beauty, but the Musée d'Orsay is a museum within another museum. It is also the home of impressionism (Monet, Manet, Degas, Renoir, Cezanne etc).
We really enjoyed visiting this museum and would recommend that you give yourself a minimum of 2 hours to explore it.
You can find the Museée D'Orsay on the Rive Gauche and the closest Metro station is Solferino Line 12 or Gare Museé d'Orsay by RER.
If you are worried about safety in the Paris Metro, check out Paris Metro: Is It Safe?
Saint Germain des Pres
From the Musée d'Orsay, you can walk towards Saint-Germain des Pres.
When you are facing the Seine, turn right and walk. When you are next to the Pont des Arts, you will have arrived in Saint Germain des Pres. This area is the artistic soul of Paris.
There is the possibility of doing some shopping in Boulevard Saint Germain, Rue de Rennes, and Rue de Sevres.
Explore wherever takes your fancy
Carry on towards Les Jardins du Luxembourg which are ideal to have a rest.
If you have time, you can go to the Quartier Latin with the fountain of Saint Michel. The closest Metro station is Saint Michel Notre Dame.
Other alternatives including visiting Cluny, the Sorbonne University and the Pantheon which was originally a church but is now a mausoleum.
You could also continue further to the Catacombs of Paris. The line can be very long but it is possible to book skip-the-line tickets in advance for a particular time. It takes about 45 minutes to go through the tunnels.
If you want to finish your day with a drink, go to the Place Monge and the Rue Mouffetard which is one of the most vibrant areas.
What to do in Paris: Day 4
L'Opéra
You are going to start day four of your Paris itinerary with one of our favourite buildings in Paris, L'Opéra. If you have seen the Phantom of the Opera, you will recognise some famous scenery like the stairs or the chandelier. It is a masterpiece of architecture.
To visit, you have 2 solutions: going in the morning and paying the entrance fee or booking to see an evening show.
Boulevard Haussmann
From here, you can head towards the big shops in Boulevard Haussmann, where you can go inside Printemps and the Galeries Lafayette.
When you are inside Printemps, you should go to the terrace on top of the building where you can enjoy a good view of the Paris skyline including the Tour Eiffel. It's relaxing to have a drink and admire the view.
Quartier des Marais
Depending on the time, go to the Quartier des Marais to find a little Bistro for lunch. When you are here, you can visit this area with its trendy shops. You will find museums, shops, historic houses, and restaurants.
Centre Pompidou
Afterwards, if you enjoy modern art, you could go to the Centre Pompidou (Beaubourg).
This building is very hard to describe! Escalators are inside big tubes with plenty of colour and a very atypical construction. French people dislike the design, but it is in keeping with modern art.
Moulin Rouge
To finish your four days in Paris, why not see a typically Parisian spectacle – the French Can-Can in the renowned Moulin Rouge? Again, book in advance!
Where to stay in Paris
Our recommendation is that you find a hotel close to a Metro line.
Personally, we like to stay in the La Défense area because it is very easy to commute to most of the attractions in Paris. There is a large shopping centre and, on top of that, you will be right next to La Grande Arche. This is a door-shaped landmark which forms part of Paris's historic axis. From here, you can see the historical alignment of L'Arc de Triomphe and the Louvre.
Check hotels on Booking.com here. 
There are so many things to do in Paris that you could visit many times and still leave with more to see.
This four-day Paris itinerary is the perfect way to explore the city as a first-timer and give you a taste of everything that it has to offer.
Want more on Paris?
If you liked it, pin it!