Deciding on the best places to visit in Southern England is no easy task! First of all, what exactly is "Southern England"?
For simplicity, we decided to count everything south of the Midlands, besides the East of England. We already covered the best places to visit across England here, so this time we just wanted to focus on one area.
We asked our fellow travel bloggers to help us out with their favourite South England spots, and as a result, we have the 30 amazing places to add to your South England bucket list.
London
No list of places to visit in South England would be complete without including the vibrant city of London. Need we say any more?
Full of iconic sites like Big Ben, Tower Bridge, Trafalgar Square, and the British Museum, just to name a few, you won't run short of things to do in London.
We recommend jumping on a ferry to Greenwich to see as much as possible from the Thames and make sure you visit at least one of London's many markets, like Greenwich Market, Old Spitalfields, Covent Garden, Portobello, Camden, and Brick Lane.
Check out our four-day itinerary for first-timers here.
Bath
Bath is a paradise for those that love Jane Austen, but it's also a wonderful place for anyone to visit really! It's a city rich with history, including the iconic Roman-built baths, the beautiful Pulteney Bridge, and the iconic Royal Terrace with its crescent of terrace houses.
We loved having brunch in the Pump Room next to the baths, visiting the Jane Austen Centre, and enjoying a famous Sally Lunn Bun from Bath's oldest house, built around 1483.
Check out top things to do in Bath here (especially if you like Jane Austen!).
Bristol
Bristol stands on either side of the Avon River and is known for its maritime history, and as the home of graffiti artist Banksy.
You can take street art tours, explore the older part of the city, visit Clifton Suspension Bridge, and learn more about the city's past at M-Shed, the Bristol Museum.
Check out our Bristol weekend itinerary here.
Cotswolds
The Cotswolds covers a huge area of 800 square miles, and has been declared an Area of Outstanding Natural Beauty (AONB).
Most people who visit the Cotswolds want to take in the charming villages with historic architecture made from the honey-coloured Cotswold stone.
Some of our favourites include Bourton-on-the-Water, Chipping Campden, Castle Combe, Stow-on-the-Wold, and the twin villages of Upper and Lower Slaughter. Other things to do in the Cotswolds include visiting Warwick Castle and Blenheim Palace or walk the Cotswold Way.
Lizard Peninsula
The Lizard peninsula in Cornwall is one of the most stunning landscapes in all of England.
Colourful fishing ports are scattered around, and the smell of delicious and fresh fish and chips, scones and Cornish pasties will make your tummy rumble!
The plants and flowers here are some of the most unique, and you will even find rock formations that you may rarely see elsewhere.
Some of the top places you should visit here are Kynance Cove, Kennack sands, Coverach beach, Poldhu cove beach and the village of Cadgwith.
Mullion Cove is where you'll find thick harbour walls surrounded by black volcanic rock. Roskilly's farm is where you can see and enjoy fresh ice cream being made.
You can learn more about the maritime history at Lizard lighthouse and enjoy spectacular views too.
Anne's pasties are the most famous here and the shop is located at England's southernmost mainland point!
You can also go diving and kayaking in this Area of Outstanding Beauty (AONB).
Rye & Camber Sands
By Bridget at The Flashpacker
For two idyllic destinations in southern England for the price of one, visit Rye & Camber Sands in East Sussex.
The medieval town of Rye is laced with cobblestoned streets, flanked by Georgian townhouses and wonky timber-framed Tudor houses, and is home to a 12th-century church and a castle. Reputedly, there's even a haunted inn.
As a source of inspiration for artists, Rye has a fine selection of galleries as well as a number of small independent shops. And if you're in the mood for coffee and cake, you'll be well served by Rye's excellent cafes.
Camber Sands, an easy three-mile walk from Rye and home to one of the longest dune systems on the South Coast, has a beach to rival many of those in more exotic corners of the world.
Collect seashells and paddle in the rock pools along its seven miles of golden sand, or embrace your inner child by building sandcastles.
If you are feeling more adventurous, why not try your hand at kitesurfing?
Although an overnight stay is recommended, thanks to good train links, Rye and Camber Sands is an easy day trip from London, just one hour from London St Pancras International with a change of train at Ashford International.
The Jurassic Coast
By Theo from Waffles and Lamingtons
From dramatic cliff lines that look more like the Mediterranean to eye-catching country towns, the Jurassic Coast has so much beauty and history to offer and you will absolutely fall in love.
There is so much to see along the Jurassic Coast that you need a few trips to really see it all. To focus on a few of the highlights and must-sees, then you can't miss Durdle Door & Lulworth Cove — two gems for the price of one location.
The iconic arched rock is likely what has drawn you to this part of the country, and you won't be disappointed.
Now that you have had a bit of beach time, it's time to find the cute towns, and Corfe Castle certainly does the trick. If the fascinating ancient town isn't enough for you, then then the 12th-century castle that sits in the backdrop over the town should be.
An insider's tip to truly wrap up the perfect trip to the Jurassic Coast is to visit Chapmans Pool. At low tide, you can rummage the cliffside and find real fossils! It's also worth staying for sunset as it truly is an amazing place for it.
Whitstable
By Joanna from The World in My Pocket
Whitstable is one of the most beautiful seaside towns easily accessible from London, by both self-driving and public transport. The town is a very popular place for day-trippers but also for people who want to spend a longer time at the seaside.
The beach in Whitstable is covered with pebbles and divided by groynes, which make it less windy when sunbathing.
Whitstable has one of the loveliest harbours in England. It is colourful and vibrant, with both a local market and plenty of restaurants selling oysters and fresh fish. Keep in mind that most of the cafes in the harbour close in the afternoon.
If you want to taste the famous Whitstable native oysters, make sure you are picking a sustainable restaurant such as Wheeler's Oyster Bar, The Crab and Winkle or The Forge.
The town is famous for its oysters, which are in season from autumn until spring. Centuries ago, the town's bay was filled with yawls harvesting oysters. The last remaining yawl in Whitstable is displayed as a museum piece, just off the promenade.
Being a popular summer destination, make sure to visit Whitstable responsibly.
White Cliffs of Dover
By Anuradha from Country Hopping Couple
The White Cliffs of Dover are naturally formed high chalk cliffs located near the town Dover, in the southeast of England. The cliffs are 8 miles long and stretch along the Kent coast offering lovely views of the English Channel.
They're part of Kent Downs, which is a designated Area of Outstanding Natural Beauty and the cliffs are managed by National Trust in England.
The White Cliffs of Dover is an amazing outdoor attraction with endless walking opportunities that suits all fitness levels. It is also said that on a clear day, you can see the views of the French coastline.
The cliffs white colour comes from the sediments of calcium carbonate and they were formed millions of years ago. The cliffs have held significant history since then.
They have acted as a natural defence for the country for centuries since Roman times, and a labyrinth of tunnels were built beneath the cliffs during the second world war, but they were abandoned after the war. Today, the tunnels are accessible to visitors.
The White Cliffs and grasslands are also rich in their flora and fauna and attract many butterflies and birds. You also can't miss the Exmoor ponies grazing!
The English Riveria
By Steph & Lewis from Book It Let's Go!
The English Riviera is an area on the south coast of Devon which includes the seaside resorts of Torquay, Brixham, Paignton and the smaller village of Babbacombe.
The whole area has a continental feel about it with pristine golden sandy beaches, beautiful clear water and even palm tree-lined streets. Sometimes referred to as the Torbay area, The English Riviera holds UNESCO Global Geopark status, one of only 7 in the UK and 140 in the world.
Accommodation options are vast ranging from budget camping in the Devonshire countryside to Luxury boutique hotels along the seafront. The English Riviera offers plenty of things to do from exploring the historic Jurassic coastline to visiting the many quaint museums.
Must-see attractions include Britain's largest model village in Babbacombe and the prehistoric caves at Kent's Cavern.
Whilst in Devon you must try the amazing award-winning local seafood platters, and no trip to the seaside would be complete without some famous British fish and chips which can be found at the locally owned Rockfish restaurants.
Also, don't forget to indulge in a Devonshire cream tea, this delicious afternoon treat can be found all across Devon.
Bournemouth
By Izzy from The Gap Decaders
Arguably the most popular seaside destination in England, Bournemouth is a fabulous place to stop on a UK south coast road trip.
With its own warm microclimate and over seven miles of beautiful sandy beaches, nine of them with Blue Flags, this is an ideal place to come for a spot of summer sun and fun!
Lively Bournemouth has something for everyone – if you're visiting with family, the beaches are safe, there are amusements, fun-fairs, aquariums and so many other attractions both in and close to the town to keep people of all ages entertained!
If you're coming as a couple, then the nightlife is legendary! There are also several really good restaurants, a couple of fantastic galleries and a pedestrianised shopping street to keep you busy.
Everyone will love Bournemouth's famous Victorian pier, with its zip line, rock climbing wall and lots of places to stop for the obligatory ice cream. If the weather isn't kind, the indoor activity centre on the pier is also a great place for entertaining little ones!
If you're planning to stay in Bournemouth for more than a few days, you should also explore the nearby towns of Poole and Swanage, head into the peaceful New Forest or visit the incredible Jurassic coast, all within easy driving of Bournemouth.
Croyde
By Helen from Helen in Wonderlust
On the North Devon coast lies the small village of Croyde, overlooking beautiful Croyde Bay.
Croyde is a mecca for British holidaymakers and surfers alike, who flock here every year to lie on the beach, catch the waves and experience the laid-back vibe of the area.
Whilst it's a small place, there are plenty of great things to do in Croyde, such as a hike to Baggy Point, a National Trust landmark, which is part of the South West Coast Path. And you must visit Croyde's most famous pub, The Thatch for a pint of cider.
From Croyde, you can take the Four Beaches Walk which takes you over to Saunton Sands and offers you one of the best views of the area. Or if you're feeling less energetic you can take a walk down to the village to get ice cream, a pasty or to browse the shops.
If you want to venture further afield, Croyde is excellently positioned between all North Devon's major towns, villages, and attractions including Woolacombe, Appledore, Ilfracombe, Bideford, and Westward Ho!
Brighton
By Victoria from Guide Your Travel
Brighton is the perfect little beach town for a weekend away. This is a popular little town especially for day trips from London.
Brighton is known for its little cafes and shops that attract thousands of visitors every year.
Definitely spend an afternoon by the pier which has a lot of fun activities such as a decently sized amusement park and of course some of the best ocean views around. Have lunch at the Palm Court Restaurant which sits directly on the pier.
Brighton is also perfect for a long walk on the beach especially in the late afternoons when the weather is nice.
Afterwards, head to the Lanes which is Brighton's Art neighbourhood. Come here for unique shops and little galleries and of course fantastic restaurants and cafes. You'll find all the best shopping opportunities here.
Then there is the Royal Pavilion which sits in the heart of town. This impressive palace is the perfect photo spot and a beautiful architectural masterpiece.
Isles of Scilly
By Annabel from Smudged Postcard
The Isles of Scilly are a real hidden gem in southern England. Located some 28 miles off the coast of Cornwall, the Scilly Isles are perfect for anyone looking to get away from the hustle of modern life and experience a holiday of yesteryear.
There are five inhabited isles to choose from depending on how remote you'd like to feel. St Mary's is the main island with a great range of beaches, restaurants and places to stay.
If you're after luxury, Tresco is the island to head for while St Martin's offers some of the best beaches in Europe – ones you're likely to have all to yourself.
The other two islands – Bryher and St Agnes – offer a peaceful retreat, there's only a handful of places to stay at on each isle.
Visitors cannot bring cars to the Scilly Isles – most people get around on foot, by bike or by boat. There are plenty of water sports on offer from stand up paddleboarding to snorkelling with seals.
There's also lots of history to explore on the islands with old castles, ancient settlements and tales of shipwrecks in the lovely local museum.
Hastings Old Town
From Suzanne at Sussex Bloggers
If you love quirky, seaside towns then you'll want to pay a visit to Hastings Old Town. The old fishing town nestles between two steep cliffs overlooking the sea and it's perfect for a weekend break.
There are loads of cool things to do in Hastings Old Town and the seafront is where it's all at. Head to the Stade where you'll notice the towering black net huts. Nearby you'll find the Fishermen's Museum, Sea Life Centre and lots of seafood stalls selling prawns, cockles, whelks and the day's catch.
There're a host of fish and chip shops, Webbe's Rock-a-Nore fish restaurant and some good pubs nearby. Hastings Contemporary, a modern gallery, also sits on the Stade and it's worth paying a visit to Café Boatyard. There's crazy golf, a pier, and amusement arcades too.
Take the funicular up to the East Hill and visit Hastings Castle for views over the town and out to sea. For kids, the spooky Smuggler's Caves will give an insight into the history of smuggling in the town.
Explore the Twittens. These little lanes are full of crooked, half-timbered cottages and medieval buildings. George Street and the High Street are lined with cafes, coffee shops and restaurants.
There's a raft of cool home stores, crafts, antiques and vintage shops too.
The best thing about Hasting Old Town is the vibe but you'll have to visit to find out about that.
Eastbourne
By Suzanne Jones from The Travelbunny
Eastbourne, just along the coast from Brighton, is a fabulous beach town on England's south coast. Unlike its coastal neighbour, Eastbourne has a relaxed vibe and chilled atmosphere.
There are loads of things to do in Eastbourne. First head to the promenade and pay a visit to the pier for fish and chips and the Art Deco bandstand nearby. If you're lucky there'll be a tribute band playing.
If you're looking for a beach then Eastbourne has four gorgeous miles of it with a stretch of sand at the Holywell end. There are also beach huts, cafes and Italian Gardens along the promenade.
For art lovers, the Towner Art Gallery with its brightly painted exterior usually has a free exhibition. History lovers will get excited about Redoubt Fort, a perfectly preserved Napoleonic Fort and hikers will love that the rolling hills of the South Downs and the Seven Sisters cliffs are right on the doorstep.
Eastbourne hosts some top events including the Eastbourne International Tennis Tournament, and Airbourne, the International Air Show so time your visit right and you can enjoy these top events too.
St Ives
By Rich from RJ on Tour
The town of St Ives is towards the Western End of Cornwall and is absolutely stunning. St Ives is a seaside town that has become a haven for all things art, and a great destination for foodies.
There are many nice places to dine out, including the oldest pub in town, The Sloop Inn. The Sloop serves fresh local seafood daily from their specials-board.
The town has options for beaches, all of which are sandy and well maintained, they also all have fantastic views across the bay. There are many art galleries in the town including the Tate St Ives, smaller independent galleries and also many artists painting throughout the town.
The whole sea wall is a great place for views, as is the coastal path towards St Ives Head. St Ives harbour has a resident seal, which is great for nature lovers. Visitors can also go on a boat trip to seal island to see a seal colony and enjoy the local coastline.
To summarise there are lots of things to see and do in St Ives, the town is rather beautiful, hence the reason it attracts so many artists.
South Downs National Park
By Claire from Stoked to Travel
The beautiful South Downs National Park stretches across the whole of the south of England from Winchester in the West, to Eastbourne in the East.
The entire South Downs National Park has plenty to offer, including dozens of beautiful walking routes, ranging from easy to strenuous. You can even walk (or cycle) the entire length of the national park, along the 100-mile long South Downs Way National Trail, or just opt to do a section of the route.
Make sure to look out for some rare species too, including the Adonis blue butterfly, and all 12 of the amphibian and reptile species native to the UK.
The section from Lewes to Alfriston is particularly lovely, and this market town and quaint village are without doubt two of the best places to visit in Sussex.
You could enjoy a relaxing breakfast and a slow explore of Lewes, before heading into the stunning British countryside to wander the South Downs Way towards Alfriston. Here you can enjoy a delicious afternoon tea at one of the charming local tea houses.
From Alfriston, you can walk a few more miles to Cuckmere Haven to enjoy its coastal scenery.
The South Downs National Park is also just one of 16 'International Dark Sky Reserves', meaning it's one of the best places in the world to take in the night sky on a clear evening.
Wells
By Suzanne from Meandering Wild
Wells is located in the heart of Somerset and is the smallest city in England. Despite its small size, it has more than enough to explore. The size makes it perfect for exploring on foot and while there is lots to see and do it is not an overwhelming choice.
At the top of the busy high street is the cathedral with its ornate ceiling and medieval clock. Tucked around the back of the cathedral is Vicar's close one of the longest inhabited streets in Europe.
As if this isn't enough through a large gated arch in the Market Place is the Bishop's Palace. This has been home to the Bishop of Bath and Wells through the centuries and today is partially ruined. It is fortified with thick walls and a large moat that is home to resident swans. These swans had learnt to ring a bell when they wanted feeding although the current generation are less willing to participate.
Wells sits on the edge of the Mendip Hills which are home to Cheddar Gorge and the extensive limestone caves which run under the hills. This is a great escape from the city if needed.
Isle of Wight
By Nichola from Globalmouse Travels
The Isle of Wight is one of those often overlooked destinations that is perfect for a getaway in southern England. It feels a little like going back in time, but in a good way.
There's a calmness here, a friendliness, a warmth that holidays of the past convey. Don't be fooled into thinking there isn't anything to do here though, it may have a slightly slower pace but it's still packed full of great activities and days out.
There's history in the bucket load from the historic Carisbrook Castle which is wonderful to wind your way through, to Queen Victoria's seaside retreat at Osborne House.
The beaches of the Isle of Wight are legendary too, Ventnor with its ice cream coloured beach huts is adorable and Sandown Beach is great for coming to do a bit of fossil hunting.
If you're planning a family holiday to the Isle of Wight then kids (and adults!) of all ages will love Blackgang Chine, the fun theme park on the island. Come here for as long as you can as there's plenty to do whatever you're looking to get out of a holiday in the south.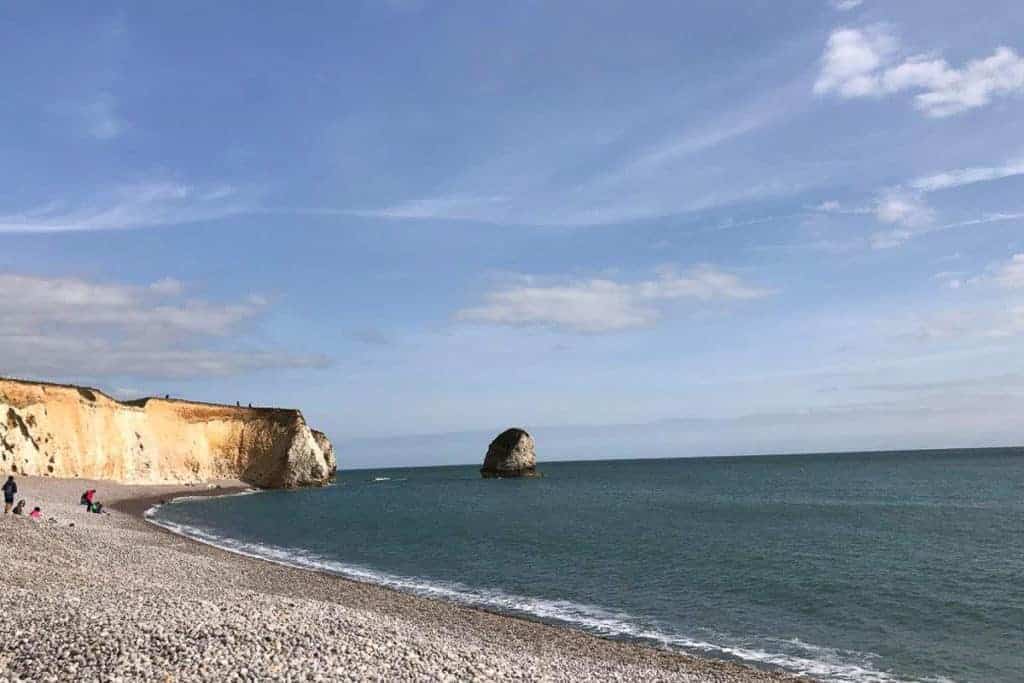 New Forest National Park
By Mal from Raw Mal Roams
Situated mainly in Hampshire, the New Forest National Park is often an overlooked holiday destination, yet an excellent place to spend a weekend in Southern England. Whether you're into hiking, cycling or fine dining, the new Forest has something for everyone.
The New Forest is also one of the most favourite things to do near Southampton.
The park boasts rich wildlife with fluffy donkeys and wild bores roaming freely. But the main attraction and often the reason people visit the place is the New Forest ponies living within the park.
Lyndhurst is the unofficial capital of the park and an excellent place to base yourself to explore the surrounding areas.
Have a cream tea in one of the towns traditional tea rooms or head to La Pergola for quality Italian dining al fresco. If you prefer to be closer to nature, stay in one of the New Forest's campsites, such as Ashurst Campsite and spend the night under the stars.
If you're an adventurer, try New Forest Water Park, where the whole family can spend a great time doing various water activities such as Kayaking, SUPing, wakeboarding and conquering an obstacle course.
And for a more sophisticated getaway, book yourself into a hotel stay with a spa and fine dining such as Careys Manor in Brockenhurst.
Canterbury
By Mark from Wyld Family Travel
Canterbury is located near the southeast coastline of England. Canterbury is a popular stopping point for those on their way to crossing the English Channel to France by ferry.
Canterbury's most popular attraction is the historic Canterbury Cathedral first built in the 5th century when Christianity made its way to the English shores.
The surrounding old town area is filled with medieval buildings and cobblestone streets. You can explore the ruins of Canterbury Castle, or learn the history of the town on one of many local tours.
For Sports lovers the Kent cricket club play their matches out of Canterbury. The club has produced many international players for England.
A short drive from Canterbury will find you standing on the White Cliffs of Dover or you could go and have a sandwich in the town of Sandwich.
Penzance
By Jumana from Planet Hopper Girl
Penzance is a popular market town of Cornwall, which is historically known for being the last stop for the railway to Cornwall. Accessibility from the rest of England via railway makes it a very popular vacation destination, amongst those who seek to enjoy the Cornish coast.
Penzance is a great spot to book accommodation for your Cornwall Road Trip, as well as it is almost equal distance from most of the popular landmarks to see in Cornwall.
Penzance harbour is charming with some nice eateries and hotels around. Chapel street here is worth a stroll to experience the old town here which carries eighteenth-century charm with hotels, pubs and shops and a chapel of course.
The Penlee House Gallery and museum is a Victorian house turned into a gallery where you can see art exhibitions.
Penzance is also home to the Morrab Gardens where you can see diverse plants that are even tropical like the palm trees and banana plants for that ultimate holiday vibe.
The quaint town of Mousehole is closer to Penzance for a visit from here, which is very popular among tourists as well as locals.
Apart from the top attractions in Penzance, do enjoy a Cornish cream tea and coastal walk here when you visit Cornwall.
Leeds Castle
By Jacs from Flashpacking Family
Leeds Castle is situated in Leeds in the southeast of England and is easy to reach by car or by train from London.
This stunning moated castle is one of the most impressive castles in Kent and is nicknamed the loveliest castle in the world.
It dates back to 1119, however, there is not much left of the original castle. The main structure that you see today is thanks to significant modifications made by owners such as King Henry VIII who lived here with his first wife, Catherine of Aragon and more recently by Sir Richard Smythe.
Being one of the most popular tourist attractions in the country, there is lots to see and do at Leeds Castle, particularly during the school holidays when they run special events.
Start by taking a guided or a self-guided tour of the castle to learn more about its history and its famous inhabitants.
After a castle tour, head outside to explore the extensive and magnificent gardens where you will find an intricate maze, falconry displays and archery lessons.
If you are visiting Leeds Castle with kids, there are also two fabulous playgrounds which are both themed around the castle.
If you have ever wanted to stay in a castle, they offer B&B accommodation in the castle as well as cottages in the grounds and in the summer months there are knight's glamping tents.
Charlestown
By Heather from Conversant Traveller
The small port village of Charlestown is a true hidden gem tucked away on the southern coast near St Austell. Visiting this historic sea-faring settlement is one of the most unique things to do in Cornwall, because it's here that you'll find pirate ships!
The harbour is home to the Shipwreck Centre, which includes a museum full of artefacts and legendary tales of adventures on the high seas. There are usually a couple of tall ships docked here too, which are sometimes open to visitors if you fancy walking around on deck like the pirates of old.
Charlestown has been used as a filming location for several movies and TV series, most notably for Poldark, so you may recognise the harbour from the screen.
Charlestown is famed for its fresh seafood, and there are plenty of pubs and restaurants where you can try local Cornish delicacies, straight from the sea.
There are superb coastal walks along the cliffs too, leading to secluded beaches with crystal-clear water that's great for swimming and snorkelling on warm days.
Winchester
By Jackie from Jou Jou Travels
Winchester is part of Hampshire county and is located an hour and a half away from London by train.
People love Winchester for its history, village-like feel but still in close proximity to London, culture, and highly rated schools. In fact, it was named the best and happiest place to live in the UK.
It is famous for its medieval church, the Winchester Cathedral. This church is one of the largest cathedrals in Europe and it's stunning inside.
The Great Hall is another noteworthy spot – it's the last surviving part of Winchester Cathedral. A great and calm place to relax is directly in front of the cathedral, where there is a large park.
Also, stop by Winchester College, a prestigious college located just behind Winchester Cathedral.
A trip to Winchester wouldn't be complete without visiting the Wolvesey Castle, a ruined bishop's palace. It's a very unique place and the walk up to it is very nice with lots of scenic landscapes on the way.
Salisbury
By Unman from Brown Boy Travels
Salisbury is a quintessentially English city that offers a lot to see and do in such a small time. It has sites like Salisbury Cathedral, the Magna Carta, Stonehenge and Langdon castle and tons of beautiful Tudor houses and ghost stories.
Getting to Salisbury takes just a 2-hour train ride from London Waterloo or Clapham Junction stations (South Western Railways) and is very easy.
Salisbury is fairly small and it is quite easy to explore it on foot. In fact, that's the best way to enjoy the facades of so many Tudor houses and building in the city centre.
Taking a free walking tour will also get you some interesting stories about haunted houses and buildings. Some of these are as mundane as libraries or departmental stores.
Visiting the Salisbury cathedral is another must-do. Not only because it is grand but it hosts the only document of the Magna Carta in the world.
Perhaps the most important reason to visit Salisbury is to visit the world-famous Stonehenge, it is quite easy to get there through shuttles that run from the city throughout the day.
Last but not the least, if you get time do visit the beautiful Langdon castle and its estate. It is open only 28 days a year which you can check on their website but the castle and its grounds are Spector summer picnic.
Salisbury makes a great place to see in Southern England whether you love ghost stories or a nice English pub in the evening, this is a city that won't let you get bored.
Oxford
By Paul from Anywhere We Roam
Built on history and bursting with tradition, Oxford is one of the top places to see in Southern England. Inside the grandeur of golden-hued architecture, English tradition is found in imposing gothic chapels, exquisitely decorated libraries and most importantly, atmospheric pubs.
Many of the colleges are open to the public and visiting them is one of the unmissable things to do in Oxford. Christ Church College is the wealthiest and most impressive to see with the dining room used as inspiration for the Harry Potter movies.
Exeter College is much less grand but free to enter and it offers the best views over the Radcliff Camera – the dome-shaped building in the centre of town.
Oxford also has world-class museums. The Ashmolean has paintings by Rubens and Picasso, while the Pitt River's Museum is a quirky collection of strange treasures from all over the world.
A visit to Oxford is not complete without a pint in a local pub. One of the best is the Turf Tavern which dates back to the 14th century. The warren of rooms and hidden nooks is the ideal place to fit in with the locals and enjoy a classic English tradition.
Lizard Peninsula
By Lavinia from Continent Hop
The Lizard peninsula in Cornwall is one of the most stunning landscapes in all of England. Colourful fishing ports are scattered around, and the smell of delicious and fresh fish and chips, scones and Cornish pasties will make your tummy rumble!
The plants and flowers here are some of the most unique, and you will even find rock formations that you may rarely see elsewhere.
Some of the top places you should visit here are Kynance Cove, Kennack sands, Coverach beach, Poldhu cove beach and the village of Cadgwith.
Mullion Cove is where you'll find thick harbour walls surrounded by black volcanic rock. Roskilly's farm is where you can see and enjoy fresh ice cream being made. You can learn more about the maritime history at Lizard lighthouse and enjoy spectacular views too.
Anne's pasties are the most famous here and the shop is located at England's southernmost mainland point!
You can also go diving and kayaking in this Area of Outstanding Beauty (AONB)
Poole
By Angela from Exploring Dorset
Poole is a beautiful coastal town in Dorset dating back to the Iron Age. Home to Poole Harbour, the largest natural harbour in Europe.
A popular attraction in Poole is Brownsea Island. Accessible by ferry and managed by the National Trust, the island attracts thousands of visitors every year. It's a great place to spot the near-extinct red squirrel.
Ferries to the island run from Poole Quay, which is almost a day out in itself. With a huge variety of pubs, restaurants and shops to discover. You can also take a boat trip around the harbour and see the sights of the Jurassic Coast.
If beaches are a priority for you, you won't be disappointed with the award-winning sandy beaches such as Sandbanks. Home to the rich and famous, the beach is a great family attraction all year round.
More inland, the town has lots of green space to explore with water sports and a large shopping complex in the heart of the town. You won't be short of things to do in Poole if you decide to visit.
And that's our top places to visit in South England! How many have you been to?
Sonja x
If you liked it, pin it!