Edinburgh's not just a city for those interested in walking through some of Scotland's living history or in enjoying some of the best bars and restaurants in Scotland. There's also an amazing array of things to do in Edinburgh with kids.
Here are some of our favourites!
Edinburgh Castle
With plenty of sites and sounds, Edinburgh Castle is a great place for kids to enter a fairy tale. There is quite a bit to see, but playing pretend offers the best way to keep kids engaged.
Make your way to the Half-Moon Battery for spanning views and plenty of cannons. The highlight is the 1-o'clock canon which goes off almost every day at 1 pm.
The crown jewels take you back in time and are a breathtaking sight, along with an interesting story for older ones about the students who took the Stone of Destiny back from Westminster. See the jewels first to avoid busy lines.
Imagine your kids are princes and princesses, you can even play dress-up at the souvenir shop!
Lastly, the Great Hall is an excellent place to be a knight, as the walls are lined with an impressive array of swords and armour.
Hours: 9:30 – 5 pm
Cost: £17.50 online in advance and £10.50 for children over 5.
Craigmillar Castle
Take a stroll through the less crowded Craigmillar Castle for one of the best things to do in Edinburgh with kids.
This medieval castle has plenty of space to run around and play pretend, making it a great choice for more active children. The rural scenery makes this an excellent choice for a quick city break.
Hours: 10 am to 4 pm
Cost: £6 for adults, £3.60 for kids over 5.
Scott Monument
If your children are old enough to climb 287 steps (or you're strong enough to carry them, but we warn you, it's narrow!) make your way to the top of the Scott Monument for sweeping views of Edinburgh.
Hours: 10 am to 9 pm
Cost: £8 for adults £6 for children over 5.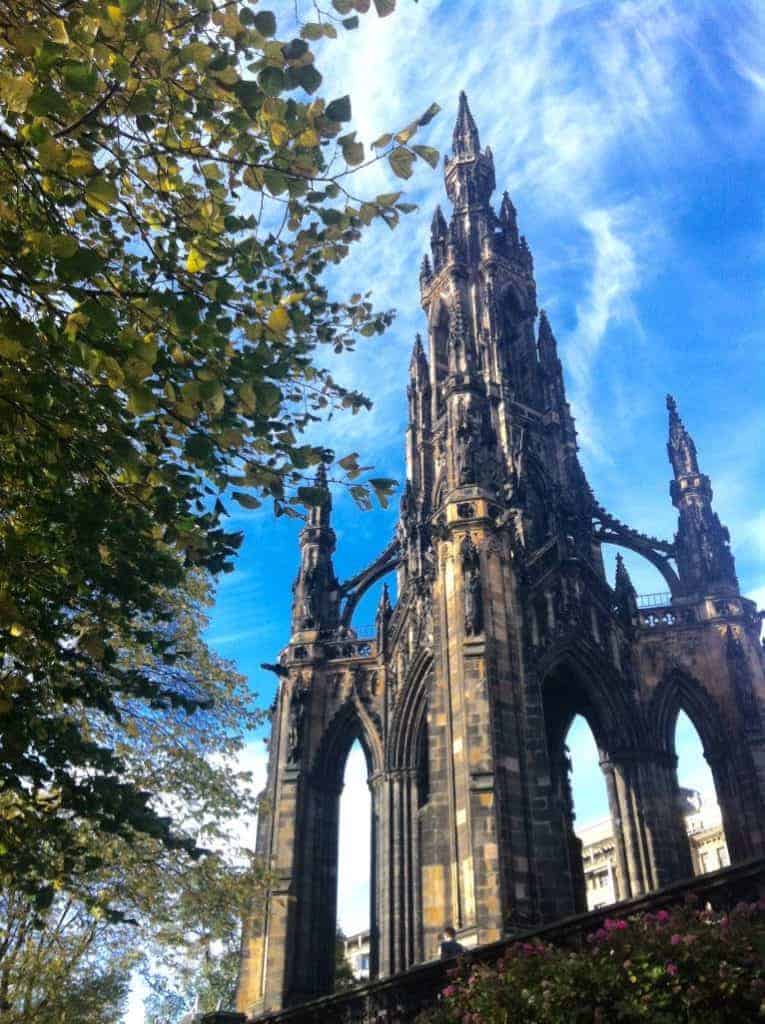 Real Mary King's Close
Best suited for kids over 5 years old, the Real Mary King's Close offers a look at the old streets of Edinburgh that your kids won't forget.
Located underneath the streets of The Royal Mile, Real Mary King's Close is an interactive experience designed to engage your family in Edinburgh's hidden history.
It's something I recommend to every visitor to Edinburgh and have done more than once myself!
Hours: Tours operate at various times depending on the season.
Cost: £16.50 for adults, £14.25 for students with an ID, £9.95 for kids over 5 and £43.50 for families (two parents plus two children).
Visit Harry Potter locations
J K Rowling wrote much of Harry Potter in Edinburgh, and the city is full of associated sites. You can visit the cafes where she wrote and also see buildings and streets that are said to have inspired scenes and places in the books.
Find out more in this guide to the Harry Potter locations in Edinburgh. Complete with map!
National Museum of Scotland
The National Museum of Scotland is a treasure trove of interactive experiences suitable for all age levels.
The science area, exploration area, and animal world offer an array of interactive exhibits geared toward kids. Notable experiences are the human-powered, light-up room, and racing a Formula 1 car.
The Fashion and Style section offers teens an awesome opportunity to design their own couture clothing.
Hours: 10 am to 5 pm Cost: Free but donations welcome
Arthur's Seat & Salisbury Crags
Escape the hustle and bustle of the city with a climb up Arthur's Seat and the Salisbury Crags.
Take the steep 30-minute trail to the top of Arthur's Seat for beautiful views of the city, or wander along the gentler slopes of the Salisbury Crags (watch out for steep drops).
Perfect for families looking for a quick nature break.
Camera Obscura and the World of Illusions
Visit the house of illusions at Camera Obscura for a fun-filled day of mind-bending fun for the whole family.
This museum of optical illusions is suitable for older kids (think ages 8 and up) who can handle lots of stairs. There are plenty of interactive exhibitions and things to see.
At the top, you can enjoy the rooftop terrace with panoramic views of Edinburgh.
Hours: 9:30 am to 7 or 9 pm depending on the day.
Cost: £16 for adults, £14 for students, and £12 for kids over 5
Edinburgh Dungeon
If you have kids over 8, then visiting the Edinburgh Dungeon is a must-do activity in Edinburgh for kids.
Immerse yourself in the dark history of Edinburgh with a thrilling, interactive visit to the Edinburgh Dungeon.
Storytelling, theatrical performances and rides make for a fun-filled, spooky day.
Hours: Varies depending on the time of year.
Cost: See the website for varying ticket packages.
Dynamic Earth
Discover the wonders of the earth with this experiential, 4D adventure exhibit that's suitable for kids of all ages.
Dynamic Earth offers an educational experience to learn all about the different ecosystems of the world.
Hours: Varies depending on the time of year. Cost: £15.95 for adults, £9.95 for kids.
Edinburgh Zoo
What better way to spend your day than by visiting the wide array of animals at the Edinburgh Zoo.
A top attraction for kids in Edinburgh, this world-class zoo houses an array of animals including chimps, birds, and even pandas.
Discover another world and learn about conservation at this highly-rated zoo.
Hours: varies by season. Closed on Christmas Day.
Cost: £17.95 for adults, £9.00 for children. Online booking discounts.
Greyfriar's Bobby
Learn the story of Greyfriar's Bobby, a Skye Terrier who spent 14 years guarding the gravesite of his owner after he died.
Today you can find a drinking fountain commemorating Greyfriar's Bobby outside the Greyfriars Kirkyard, and his grave just inside. People still leave sticks there for him.
Soft Play
Themed children's soft play areas allow kids to unwind, burn off energy, and discover new worlds. It also gives the parents some downtime while kids explore and meet new friends.
A few of our favourite soft play areas in Edinburgh are:
Wonder World: From Volcanos to go-karts, there's fun for everyone
Time Twisters: An ancient Egypt-themed play park
Edinburgh International Climbing Arena: Edinburgh's premier rock climbing gym offers plenty of family fun, including interactive kids areas and instructors for all abilities
Ocean Play Centre: Ocean Play is super fun with this sea-worthy play area featuring water activities
Gravity Trampoline Park: Bounce around on this trampoline park suitable for all ages
Picnic at the Parks
Pack up a picnic and hit the park with the whole family.
Picnicking is a long-time favourite family-friendly thing to do in Edinburgh. We love to spend time at the park, enjoy lunch, and play in the playgrounds. These parks are great for family picnics:
The Meadows: Gorgeous sprawling greens right in the heart of the city near the university
Princes Street Gardens: Beautiful fountains and manicured gardens just north of the Edinburgh Castle
The Botanic Gardens: Incredibly lush and filled with wonder, these gardens are a must-see in Edinburgh.
Walks to enjoy
Talk a walk along one of the several beautiful walking paths in Edinburgh. Suitable for families, these walks are low key and feature classic Edinburgh sites.
The Water of Leith: walk along a classic waterway with trees and old buildings
Portobello: A coastal suburb with a long promenade
South Queensferry: A town just west of Edinburgh along the sea where you can view the bridges crossing the Firth of Forth
Pentlands: A picturesque hilly landscape outside of the city
Cramond Island: An island with a walking bridge just north of Cramond
The Museum of Childhood
Situated in The Royal Mile, this museum is full of wonders, featuring everyone's favourite toys, dollhouses, and games.
The toys here span generations, making it an ideal place to take children to learn about their favourite toys and games and see some that might remind you of your own childhood!
Hours: 10 am to 5 pm
Cost: free
The Scottish Storytelling Centre
This art venue focuses on preserving traditional storytelling. Different live performances and storytelling events happen throughout the year, making it a wonderful option for families looking to learn more about Scottish storytelling.
Hours: Varies depending on the show
Cost: £1 to £5
Edinburgh Festivals
There are 11 festivals that take place across Edinburgh every year. Most of them have elements that cater for children as well as adults.
The Edinburgh International Children's Festival is, of course, the premier festival for families, but there are also great events at the Edinburgh Science Festival and lots of shows for children at the Edinburgh Festival Fringe that takes place in August every year, alongside 4 other festivals.
You can read more about all of Edinburgh's festivals here and in particular about the August festivals here.
Things to do with kids near Edinburgh
Deep Sea World
Fife
Scotland's premier aquarium, Deep Sea World in Fife lets you explore watery worlds. With an overhead aquarium and plenty of interactive exhibits, there's plenty to keep kids occupied.
Hours: 10 am to 4 pm on weekdays and 5 pm on weekends.
Cost: £15.80 for adults, £11.25 for kids with online discounts available.
Dalkeith Country Park
20 minutes
With beautiful cafes and playgrounds, there's plenty to see at Dalkeith Country Park. Located 20 minutes south of Edinburgh, this is a great spot to take the family on a quick city break. The Fort Douglas Adventure Park is perfect for kids who love to play and includes climbing walls, slides, forts, and zip lines
Hours: 7 am to 7 pm
Cost: Free for the park, additional fees for Fort Douglas (varies throughout the year).
Jupiter Artland
25 minutes
Head 25 minutes outside of Edinburgh for a live art park unline any other. Wander sculpted hillsides and large art displays throughout the park to be transported to another world.
Hours: May 18 through September 29 from 10 am to 5 pm
Cost: £8.10 for adults £4.50 for children. Family pricing available
Craigies Farm
20 minutes
During the summer months take part in the harvest at Craigies Farm. Families can get on the farm and pick their own fresh fruits. Learn about local farming techniques, interact with animals, and enjoy deliciously fresh food with this unique farm experience. They also have Craigies Little Farmers, a farm-inspired play area for kids with a cafe.
Hours: 9 am to 5 pm.
Cost: Varies.
There are lots of other things to do with kids within easy reach of Edinburgh. Here are a few more ideas:
And that's the best things to do in Edinburgh for families! We're sure there are many more to discover, and we'll continue to add to the list!
Sonja x