Just because it's cold doesn't mean you can't travel! There's no point sitting at home dreaming of summer holidays when you can take a European city break in winter too. The offseason is actually one of the best times to travel in Europe, with so many great winter destinations to choose from. The flights can be cheap and don't worry, you can still travel with a carry on in winter to save on extra fees!
I've compiled a list of my favourite places to travel to for a city break in winter in Europe, so all you have to do is sit and ponder, Budapest or Prague? Or Paris, or Bergen …or Reykjavik… let's just get to the list! I haven't even included some places that are well worth visiting in winter because they are much less busy than in summer, like the Lake District, Ireland or the Scottish Highlands. Basically, the options for travelling Europe in winter are endless, so get planning!
Prague, Czech Republic
Prague's Old Town Square is so colourful and pretty it feels a little unreal. Add the magic of Christmas Markets and crisp mornings walking across the Charles Bridge and Prague has to be one of my favourite winter destinations in Eastern Europe. Prague is a romantic city, and in winter it seems even more so. The fog and sometimes light dusting of snow make the cobbled streets seem like another world, and the cafes cosier somehow.
Paris, France
Paris in the winter, really? The answer is yes. If you want to wander along the Sienne and enter the Notre Dame and the Louvre without waiting in insanely ridiculous lines then winter is the perfect time to visit Paris. What better time to duck into a cosy restaurant and enjoy rich French cuisine, or have an amazing hot chocolate and croissant at one of the many cafes. I visited Paris in early January and although it was chilly we wrapped up and strolled the streets, taking in all of the sites from one end of Paris to the other.
Krakow, Poland
It feels like some cities are made for winter, and Krakow is one of them. Like many other Eastern European winter destinations, Krakow is friendly on your wallet. There's plenty to see within the city itself as well as on side trips to the nearby Salt Mines, or a difficult but worthwhile visit to experience Auschwitz in winter. Krakow is also home to the Schindler Factory, which has been turned into one of the best museums I've ever been to, showcasing the experience of the inhabitants of Krakow leading up to and during the World War II.
The Old Town Square of Krakow is turned into a Christmas Market in December with delicious Polish dishes to try. Don't miss trying the Pierogi at the nearby Zapiecek, open 24 hours and serving delicious savoury and sweet dumplings on a varying daily menu. For something extra to warm you up, borscht (beetroot soup) is peppery and delicious.
Budapest, Hungary
There are so many fun things to do in Budapest! The Szechenyi Baths are the largest medicinal baths in Europe, and relaxing in their soothing waters is reason enough to visit Budapest. There's something magical about enjoying a hot pool outside in the crisp air. Not so much the getting in and out of the pool… but as a whole the experience is worth it! When you can drag yourself away head for the ruins pubs and bars, previously abandoned buildings turned into quirky and unique places to have a night out.
 Berlin, Germany
Berlin is an intriguing city, full of history but with a modern vibe and with plenty of things to see and do. Berlin is now well known as a hub for startups, and it has the arts and alternative scene to match. The city now appears well and truly united after the turbulence of World War II and the Cold War, but the remains of that time can be seen all over the city, from pieces of the Berlin Wall and the Holocaust Memorial to the modern Potsdamerplatz, which used to sit in the no mans land between East and West Berlin.
Berlin in winter is cold, so wrap up and take in the outdoor sights before ducking into the free museums to warm up. My favourite was the Palace of Tears (Tränenpalast) at Friedrichstrasse Station, where families would have to say goodbye after visits to the other side of the city, or where people would try and escape through.
Germany also has great Christmas markets of course, if you visit at the right time! There are lots of options in Berlin, but honestly, you could try Christmas markets in Cologne, Dresden, Hamburg, and basically everywhere else too!
Vienna, Austria
When I think of Vienna I think of somewhere sophisticated and grand. It has imperial palaces, and dramatic monuments, alongside elegant cafes and beautiful museums. There are so many reasons to fall in love with Vienna in winter! It is somehow both contemporary and steeped in history. In winter, Vienna is a top spot for enjoying the Christmas Markets, with numerous places around the city offering delicious food and hot drinks to warm you up.
Bratislava, Slovakia
Bratislava may be small, but it's one of my favourite eastern european winter destinations. The quaint old town square holds a great Christmas Market, one that hasn't been overly commercialised like others I've been to. Expect to see authentic handmade ornaments, big servings of traditional food for a small price and some fairly strong mulled wine! Bratislava is only an hour from Vienna by train, so it's easy to visit both in one trip. I opted to stay in Bratislava and train to Vienna since it was the cheaper of the two!
Gdansk, Poland
"G-what?", you might be saying, but not for long! It's located in the very north of Poland, on the Baltic Coast. It was actually the site where World War II started, and the beautiful old town was largely destroyed. The colourful facades have now been rebuilt so that you would never know. Gdansk in winter might seem like an odd choice, but this unique city often has cheap flights during the winter season and makes an ideal city break.
Gdansk has been influenced by the many sailors and traders who passed through, adding to a different sort of atmosphere. Wrap up, enjoy the architecture, see the sights and top it off with a meal in one of the many inviting restaurants or cafes.
Reykjavik, Iceland
I'm featuring Reykjavik on yet another places to visit in winter list because it really is an amazing place! Winter in Iceland means a lot of snow and not much daylight. Use the daylight hours to get out of the city and see the unique volcanic and geothermal landscape, and after dark go hunting for the Northern Lights. Eating out can be more expensive in Iceland, but there are some great restaurants to try, and they have a surprising amount of vegetarian and vegan options in Reykjavik too! Before you leave, stop by the Blue Lagoon for a swim, which is naturally a pastel blue colour and the most famous hot spring in Iceland.
Bergen, Norway
Surrounded by mountains and fjords, there's no denying Bergen is one of the prettiest places in Norway to visit. From here you can do a tour of the fjords, even in the winter! You can ride the funicular up the mountain to look over the city and go sledding, and check out the Bryggen, the colourful houses on the wharf that were once a buzzing centre for trade. Then warm up with a delicious seafood chowder! I visited Bergen by taking the train from Oslo, over one of Europe's highest plateaus, and considered to be one of the world's most scenic train rides.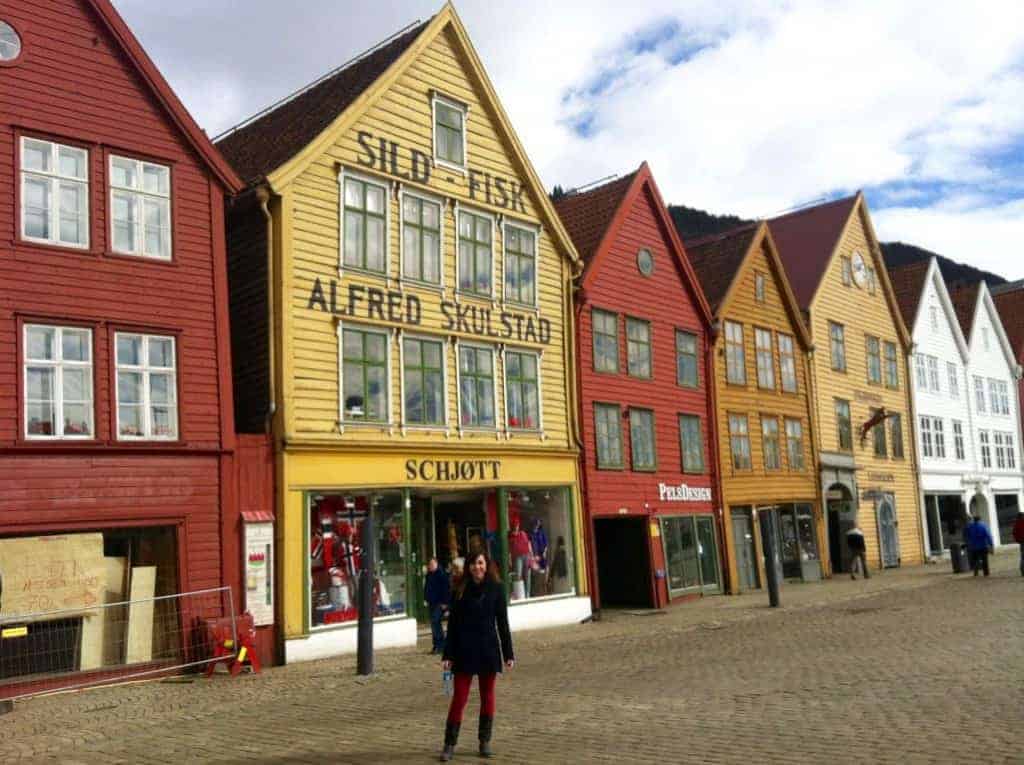 So that's my top ten destinations to visit in Europe during winter, although there are many more I have yet to see!
Are any of these your favourite? Or do you have a suggestion for me?
Sonja x
If you liked it, pin it!