Aviemore is one of the most popular holiday destinations in Scotland, with both locals and tourists alike. There are so many things to do in Aviemore!
The proximity to the Cairngorms mountain range means it's the perfect place to go for gorgeous scenery but also lots of adventurous activities.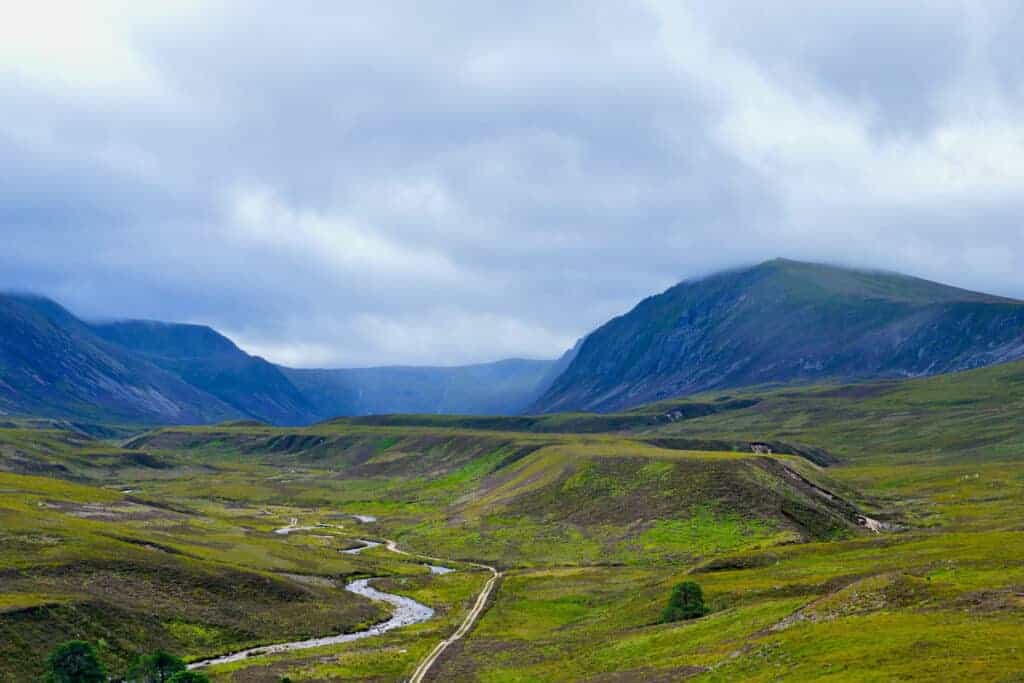 Aviemore is a year-round destination. In the summer, you can swim in the lochs, cycle and hike, and enjoy the town. In the winter, the nearby Cairngorm Mountain Ski Resort is a haven for skiers and snowboarders, and there are plenty of other winter activities like snowshoeing and sledging too.
In addition, Aviemore and its surroundings are home to a diverse range of wildlife. The Cairngorms National Park provides a natural habitat for various species, including red deer, wildcats (although your chance of seeing one is very slim!), mountain hares, golden eagles, and ospreys.
Wildlife enthusiasts can explore the park's trails and take part in guided wildlife safaris to spot these fascinating creatures in their natural environment.
How to get to Aviemore
I always recommend a stop in Aviemore to anyone visiting Scotland. Many people have Inverness on their list, and Aviemore is just 40 minutes south of there. If you're travelling up the A9 you'll drive straight through it anyhow.
If you're visiting Loch Ness and heading up towards Inverness, then you can dip south to Aviemore.
At the very least, you can make a pit stop in the town, but I'd highly recommend a scenic 15-minute detour to the Cairngorm Reindeer House and driving on another 10 minutes to the Cairngorm Mountain Railway.
But let's get to all the things to do in Aviemore!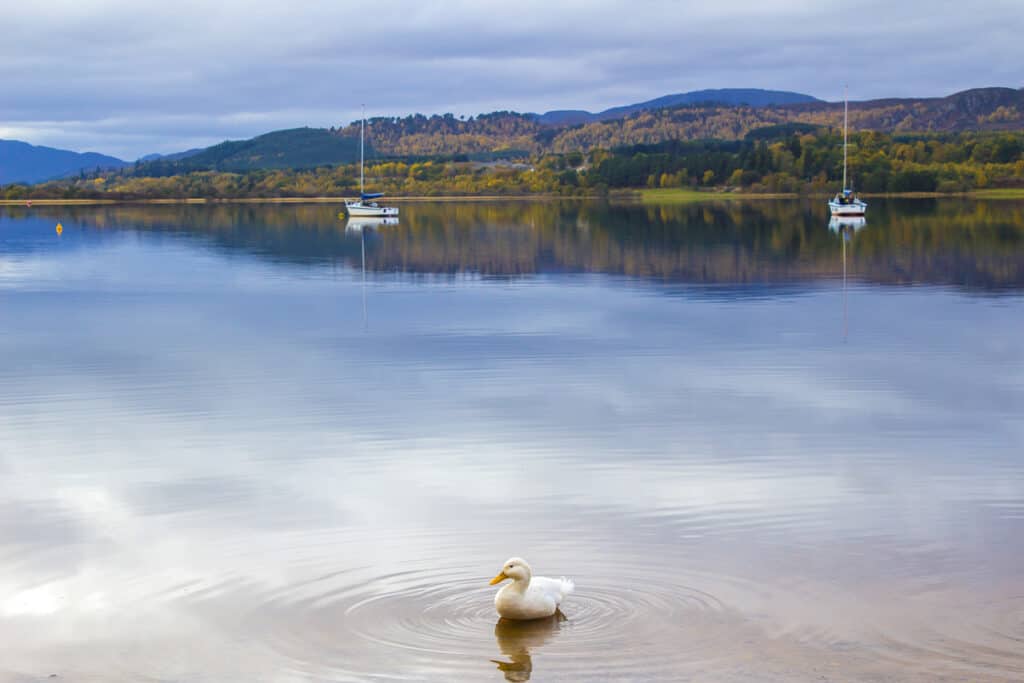 Things to do in Aviemore
Cairngorm Mountain Railway
Aviemore is the closest centre to the Cairngorm Mountains, which feature a unique attraction known as the Cairngorms Mountain Railway.
It is the highest railway in the UK and transports visitors to the summit of Cairngorm Mountain, where they can enjoy panoramic views of the Cairngorms National Park.
The funicular is not only a means of transportation but also a popular tourist attraction in its own right.
Note that you can only visit the information centre, shop and cafe at the top, not access the mountain itself. If you wish to do so, there are hiking trails around that you can take instead or as well.
Highland Folk Museum
Immerse yourself in Scotland's rich cultural heritage at the Highland Folk Museum, just south of Aviemore in Newtonmore.
This open-air museum showcases historic buildings, traditional crafts, and living history exhibits.
It showcases a collection of historic buildings, including thatched cottages, a schoolhouse, and a working farm. Visitors can step back in time and learn about the social history and cultural heritage of the Highlands through interactive exhibits and demonstrations.
Loch Morlich
Loch Morlich is a stunning freshwater lake nestled in the heart of the Cairngorms. It's a haven for water sports enthusiasts.
Enjoy a refreshing swim in the crystal-clear waters, rent a kayak or paddleboard to explore the tranquil surroundings, or simply relax on the sandy beach, soaking up the scenic beauty.
Yes, we mean sandy beach!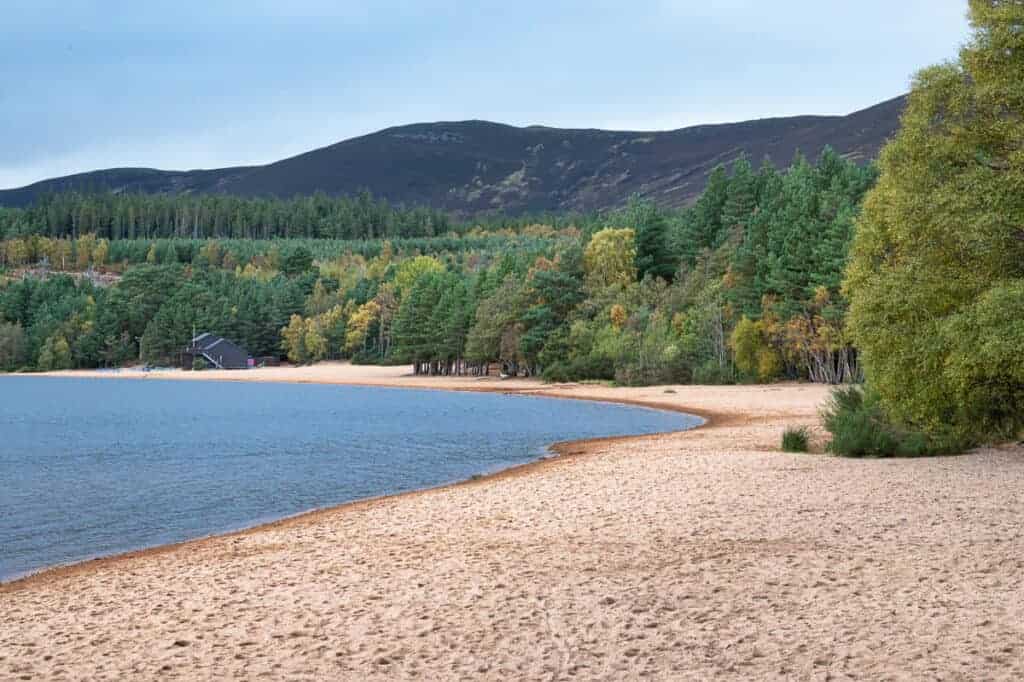 Rothiemurchus Estate
Discover the natural wonders of the Rothiemurchus Estate, an expansive estate that encompasses forests, lochs, and the majestic Cairngorms Mountains.
Embark on guided nature walks, spot local wildlife, and learn about the rich biodiversity of the area.
Enjoy activities like fishing, horseback riding, or even quad biking for an adrenaline-filled adventure.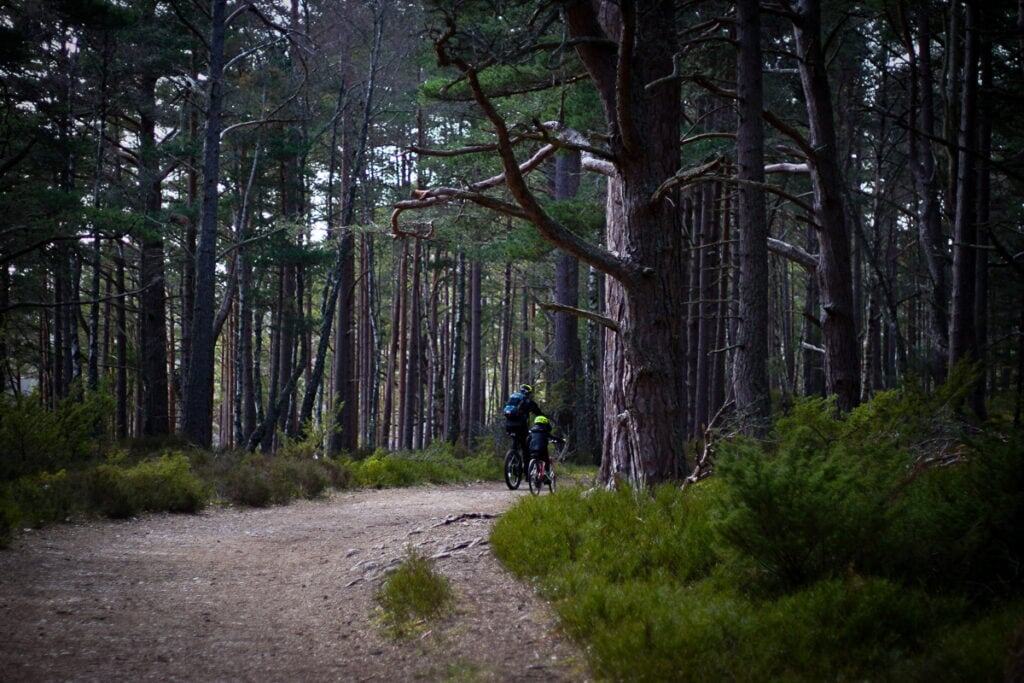 Strathspey Steam Railway
Step back in time and experience the nostalgic charm of the Strathspey Steam Railway.
Hop aboard a vintage steam train and journey through the stunning landscapes of the Cairngorms.
Enjoy the rhythmic chug of the locomotive as you pass through verdant valleys, ancient woodlands, and picturesque villages.
You can also have afternoon tea on the train!
Highland Wildlife Park
Located near Kincraig just south of Aviemore, the Highland Wildlife Park is home to a diverse range of native and exotic animals.
Take a safari-style tour of the park and spot magnificent creatures like Scottish wildcats, European bison, red deer, and even polar bears.
It's a fantastic opportunity to learn about conservation efforts and get up close to these incredible animals.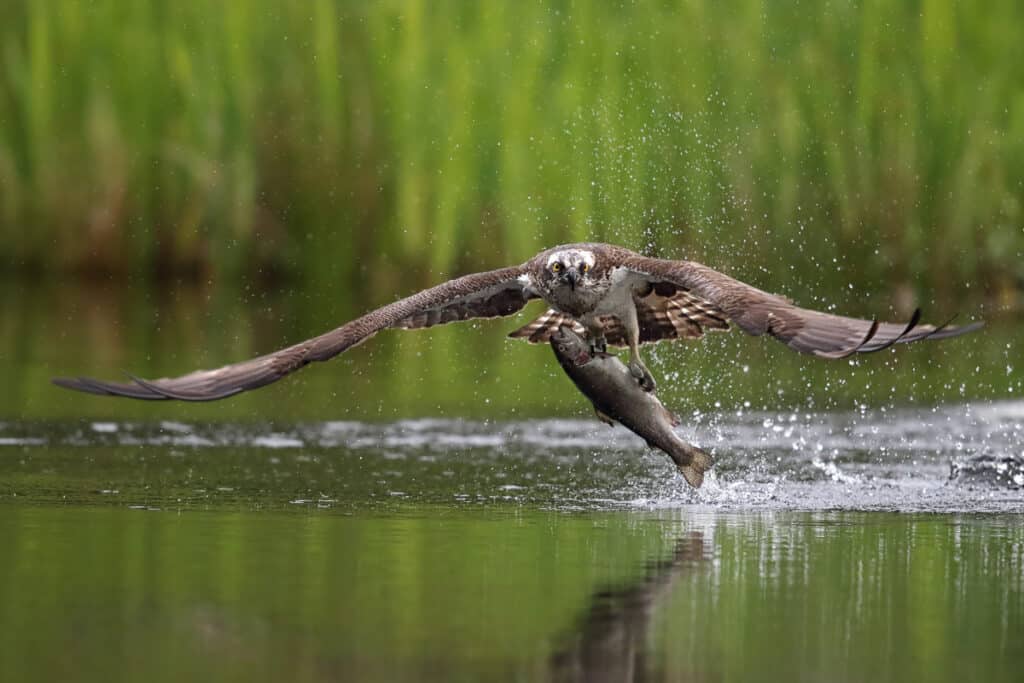 TreeZone Aviemore
Let your little adventurers test their skills at TreeZone Aviemore, an exhilarating high ropes course set in the beautiful Rothiemurchus Estate.
With various levels of difficulty to suit different ages and abilities, kids can swing through the treetops, conquer obstacles, and zip-line their way to fun-filled excitement.
Cairngorm Reindeer Centre
Pay a visit to the Cairngorm Reindeer Centre, where you can encounter a unique herd of reindeer roaming freely in the Cairngorm Mountains.
Often there are Reindeer at the centre itself, or you can join a guided tour and learn about these captivating creatures while walking alongside them in their natural habitat. You may even have the chance to feed and pet them.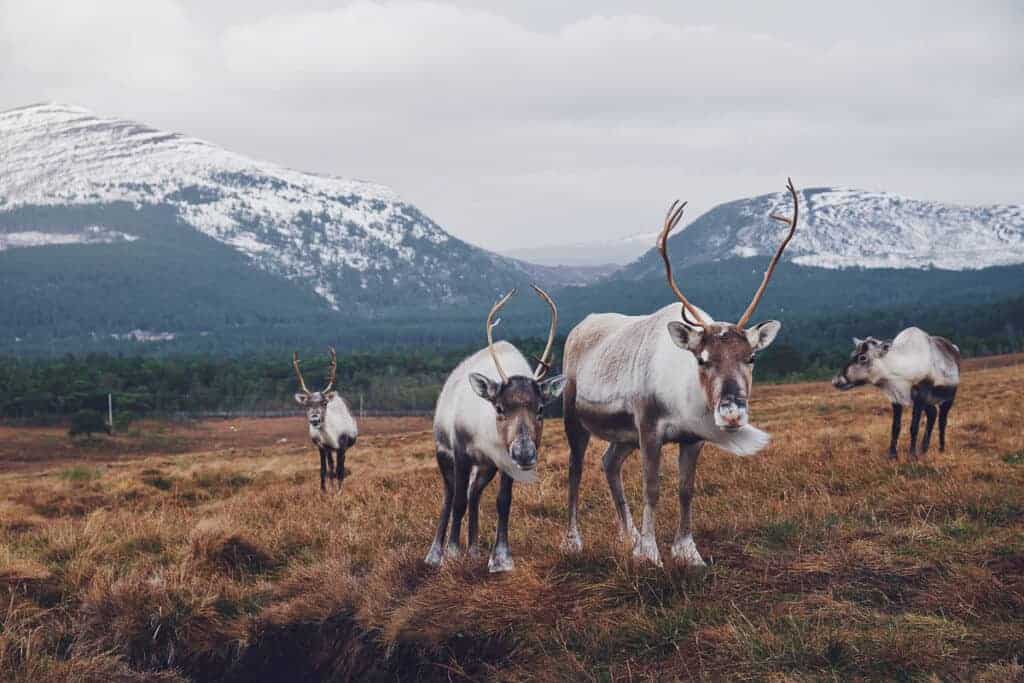 Cairngorm Mountain Bike Park
Located within the heart of the Cairngorms National Park, the newly opened Cairngorm Mountain Bike Park has plenty of trails for all of the family. It features 3.4km of trails, with the longest descent at 1.4km.
There are two conveyor belts that take riders to the lower blue and green zones for easier rides, and more experienced riders can take the climb trail to the upper blue and red routes.
The Aviemore Adventurer Bus service runs from the town to the mountain and has bike racks, so it's possible to get there by public transport too.
Landmark Forest Adventure Park
Located in Carrbridge, just a short drive from Aviemore, the Landmark Forest Adventure Park is a thrilling attraction for all ages.
Discover an array of exciting activities, including treetop walks, water slides, a butterfly house, and a wildlife observation area. Unleash your inner adventurer and have a blast exploring the park's numerous attractions.
Loch an Eilein
Set within the magnificent Rothiemurchus Estate, Loch an Eilein is a true gem of the Cairngorms. Take a leisurely stroll around the loch, enjoying the peaceful atmosphere and taking in the scenic beauty.
Admire the ruins of a 13th-century island castle that sits majestically in the middle of the loch, creating a captivating scene for photographers and nature lovers alike.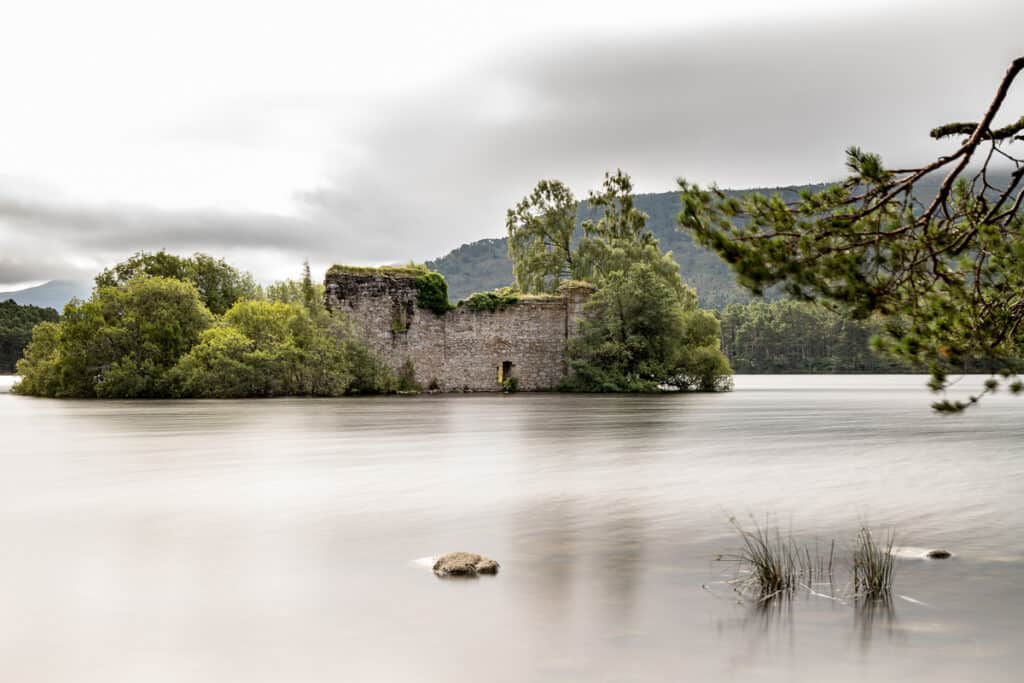 Macdonald Aviemore Resort
The Macdonald Aviemore Resort offers a variety of family-friendly activities and facilities. Kids can splash around in the indoor pool complex, complete with water slides and a wave machine.
The resort also features a soft play area, outdoor play parks, mini-golf, and a dedicated activity program for children, ensuring there's never a dull moment.
Speyside Way
Lace up your hiking boots and embark on a section of the Speyside Way, a long-distance trail that spans from Aviemore to Buckie.
Enjoy a leisurely walk through stunning landscapes, passing by tranquil lochs, lush forests, and picturesque villages.
Keep an eye out for local wildlife, and don't forget to stop by one of the nearby distilleries to sample some world-famous Speyside whisky.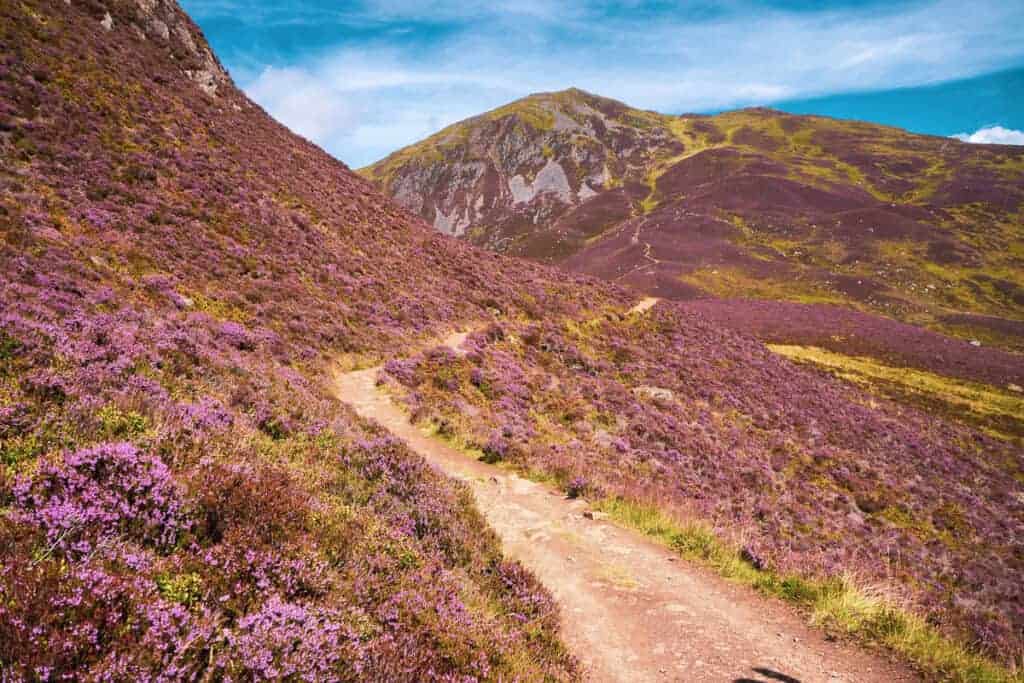 Highland Wildlife Safari
Join a guided wildlife safari and venture deep into the Cairngorms National Park.
Accompanied by knowledgeable guides, explore hidden corners of the park in search of elusive creatures like golden eagles, red deer, ospreys, and ptarmigans.
Gain insights into the region's natural history, ecology, and conservation efforts while being surrounded by awe-inspiring scenery.
Cairngorm Brewery
Beer enthusiasts shouldn't miss a visit to the Cairngorm Brewery, located in Aviemore. Take a tour of the brewery and discover the traditional methods used to create their award-winning craft beers.
Learn about the brewing process, sample a variety of their signature ales, and perhaps find a new favourite to take home as a souvenir.
Aviemore Kart Raceway
Get your adrenaline pumping with a visit to Aviemore Kart Raceway. Challenge your friends or family to a thrilling go-kart race around the purpose-built track.
Test your driving skills, feel the rush of speed, and enjoy friendly competition in a safe and controlled environment.
Land Rover Safari
Embark on an exciting Land Rover safari and explore the rugged landscapes of the Cairngorms in style.
With experienced guides at the wheel, venture off-road to discover hidden gems, remote viewpoints, and areas inaccessible to regular vehicles. Learn about the region's geology, flora, and fauna, and keep your eyes peeled for red deer, mountain hares, and other wildlife.
There are several companies and estates that offer these, including Glenlivet Wildlife, Rothiemurchus, and Atholl Estate.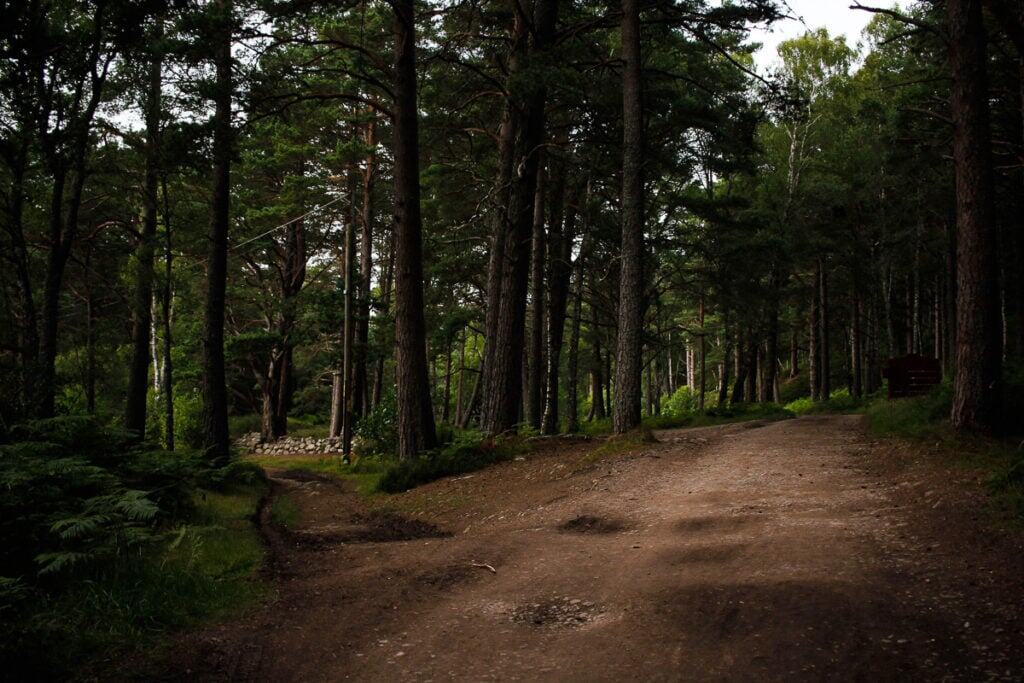 Strathspey Steam Railway
The Strathspey Steam Railway run steam trains at certain times of year from Aviemore to Boat of Garten to Broomhill. Sometimes including the Flying Scotsman train! You can often enjoy afternoon tea or a light lunch on the train.
We highly recommend the experience! You can check which trains are running on which days on their website here.
Spey Valley Cinema
Enjoy a family movie night at the Spey Valley Cinema, located in the heart of Aviemore. Catch the latest releases and relax in comfortable seating while enjoying a bucket of popcorn. It's a great way to unwind after a day of outdoor adventures.
Places to eat in Aviemore
Here are some places to try if you're stopping in Aviemore for something to eat.
The Old Bridge Inn
This popular gastropub offers a cosy atmosphere and a diverse menu featuring locally sourced ingredients. From hearty pub classics to vegetarian and vegan options, there's something to satisfy every palate.
The Winking Owl
A family-friendly restaurant known for its warm hospitality and delicious food. The menu features a mix of traditional Scottish dishes, international cuisine, and vegetarian options. Don't miss their mouthwatering homemade desserts.
The Cairngorm Hotel
Located in the heart of Aviemore, this historic hotel offers a welcoming restaurant that serves a range of dishes, including Scottish classics like haggis, neeps, and tatties, as well as international favourites.
The Druie Café
Situated in the Rothiemurchus Estate, this quaint café provides a delightful dining experience amidst stunning surroundings. Enjoy homemade soups, sandwiches, and cakes, along with beautiful views of the surrounding forest.
Cheese and Tomatin
A laid-back atmosphere and delicious wood-fired pizzas are on offer at this family-friendly restaurant.
We love staying in Aviemore, and we'll definitely be making future visits and updating this list!
More ideas for your trip to Scotland:
Sonja x