Stirling is located in central Scotland and is another great base for families wanting to explore all that Scotland has to offer.
There's a ton of history in the city itself, not least at Stirling Castle, perched on a rocky outcrop by the town centre, as well as lots of adventure activities and places to visit close by.
And, of course, there are plenty of things to do in Stirling with kids, so we've listed a few of our favourites. for this popular area.
Stirling Castle
At Stirling Castle, you can experience interactive exhibits and gorgeous castle views. Situated high on a rocky hill, the views from the castle are worth a visit alone! But that may not be the most appealing thing for children, of course.
Costumed characters will entertain the young ones, and if they want to, they can dress themselves up in the Palace Vaults. You can even plan a picnic for the Queen Anne Garden and let the kids burn some energy running around while you take in the views.
There are plenty of accessible options for reaching the castle if you want to take a pram as you can park close by or walk up from the town (just mind the hill!) but keep in mind many of the exhibits inside the castle have cobblestones to access them.
The Old Town Jail
Touted as "the worst jail in Britain", this brutal facility is now a live museum. Meet jailkeepers and famous criminals in performance tours that will excite the whole family.
More suitable for older children (5 and up) who don't get scared easily, although the actors are well trained and use comedy to help keep little ones at ease.
Battle of Bannockburn Experience
The Battle of Bannockburn was fought in 1314 by Robert the Bruce and Edward II and was a landmark battle in Scottish history and a decisive win for Robert the Bruce.
Get on the front lines at the Battle of Bannockburn Experience. You'll be able to view a series of 3D films that show what happened during and around the time of the battle, and you can even have a go at commanding yourself in an interactive experience.
The experience is recommended for ages 7 and above, dependent on each child, of course. There are brutal battle scenes depicted, so parents will need to decide what's right for their children.
National Wallace Monument
As one of Scotland's most striking monuments, the National Wallace Monument juts high into the sky, overlooking the site of the Battle of Stirling Bridge, where in 1297, William Wallace led a battle and defeated the English (yes, that one in Braveheart, probably the most famous film set in Scotland, but let's just be clear that wasn't exactly an accurate depiction!).
There are several exhibits where you can learn more about the real battle, and a wooden sculpture walk, plus they have a free activity book on hand for kids.
To reach the top of the monument, you must be able to climb 246 steps. But the views are worth the effort!
The Engine Shed
Learn all about building and engineering at the Engine Shed. Enjoy 3D and interactive exhibits to learn about the history and science of buildings as well as their conservation and various jobs and roles of builders throughout history.
Kings Park
Enjoy a day of outdoor leisure with the whole family at Kings Park in Stirling.
A skate park and BMX bike path keep older kids entertained while various play areas are open for all ages.
Sports facilities, tennis courts, picnic tables, walking trails, and greens are just a few of the amenities.
There's also a coffee bar with ice cream!
Plean Country Park
With over 70 hectares of publicly accessible land, the whole family will enjoy the wonderful rolling hills of Plean Country Park.
Visit the beautiful yet spooky remains of the Plean House and explore plenty of walking paths that bring you opportunities to get up close to wildlife such as birds, deer, and foxes.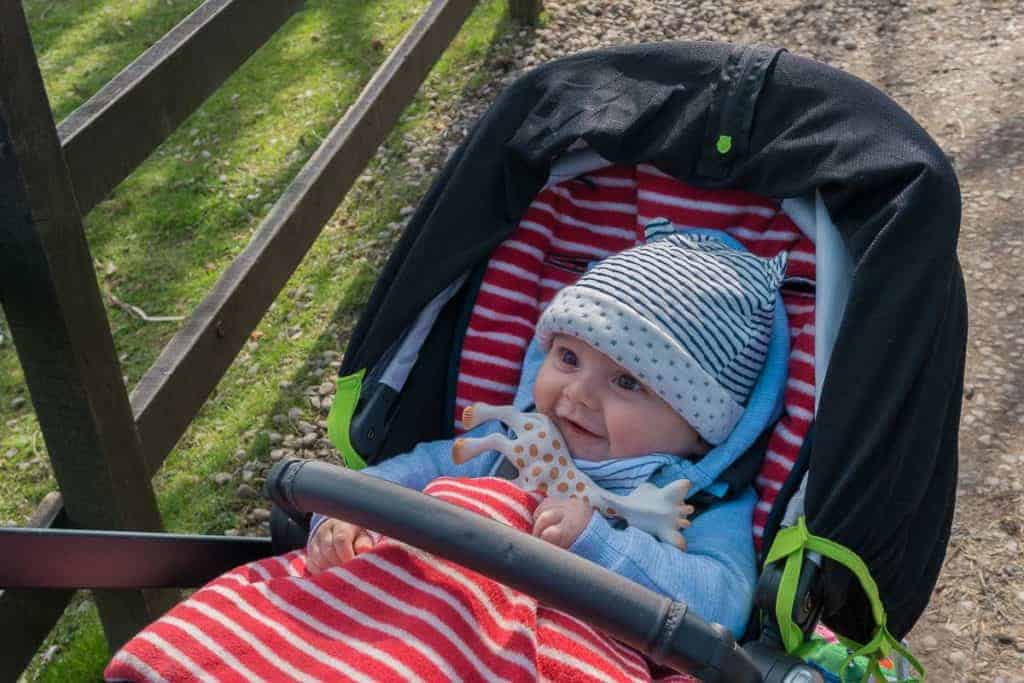 Jump N Joy Trampoline Park
This indoor jungle gym features plenty of unique ways to bounce and play for kids aged 1 and up, with particular areas for kids under 5.
There's a food stand selling drinks and dishes perfect for a hungry jumper.
Darnley Park
We're always looking for a decent playground to let our little ones burn off some steam. Darnley Park is a small play park located in central Stirling.
With a kid's play area, this park is suitable for younger children who enjoy slides and playgrounds. It's free to visit and makes the perfect stop for a few hours for them to have some normal fun!
Macrobert Arts Centre
The Stirling Macrobert Arts Centre hosts a variety of plays and films throughout the year.
Although much of their lineup is geared towards grown-ups, they offer a special family program throughout the year so check out what's on offer when you're visiting.
Places to Visit Nearby + Day Trips From Stirling
Doune Castle
Doune Castle is located just outside of Stirling and is a great experience for the whole family. It has been used as a filming location for series like Monty Python and Outlander, amongst others.
There's an audio tour available, and the grounds offer up plenty of room to explore for the kids. You'll need to climb some stairs to fully enjoy the castle, but the views from the top are lovely. If you can't manage, we'd still recommend it as a pit stop!
Briarlands Farm
Visit a farm and learn about animals and food at this kid-friendly interactive farm experience.
Located just a short drive from Stirling, Briarlands Farm offers tons of playground fun for kids of all ages, strawberry picking, farm animal feeding, go-karts, and more.
Kelpies & Falkirk Wheel
Visit the Kelpies and the unique Falkirk Wheel. The wheel raises boats 24 meters high while the Kelpies honour mythical water horses and are usually pretty awe-inspiring for kids! They have a cafe with a small museum/interactive area where kids can explore and learn more.
Go Country
The Go Country Adventure Center provides tours and trips focused on outdoor adventures and nature. From hiking to water sports, you can choose from a variety of family-friendly, guided activities within Loch Lomond and the Trossachs.
Loch Lomond & The Trossachs
Loch Lomond and The Trossachs are easily accessible and offer lots of outdoor adventures for the family.
Cruise the stunning waters of Loch Lomond with a leisurely boat tour. Gain unique views of the surrounding mountains and see the beautiful shoreline of Loch Lomond from the water.
There are numerous companies offering boat tours, some stopping at Inchcailloch, which is small and easily explorable with kids.
Blair Drummond Safari Park
Get up close and personal with lions, rhinos, and more at the Blair Drummond Safari Park, but not too close, of course! A quick drive from downtown Stirling will take you to this family-friendly attraction. It includes pet-friendly animals, plenty of play areas and a safari drive to see the animals in their wild habitat.
Go Ape, Aberfoyle
Swing through the trees on this high-flying adventure through Aberfoyle. Jump on the zipline and fly through the trees of Trossachs National Park.
Various different courses and adventures are suitable for different age groups, so check prior to booking your trip.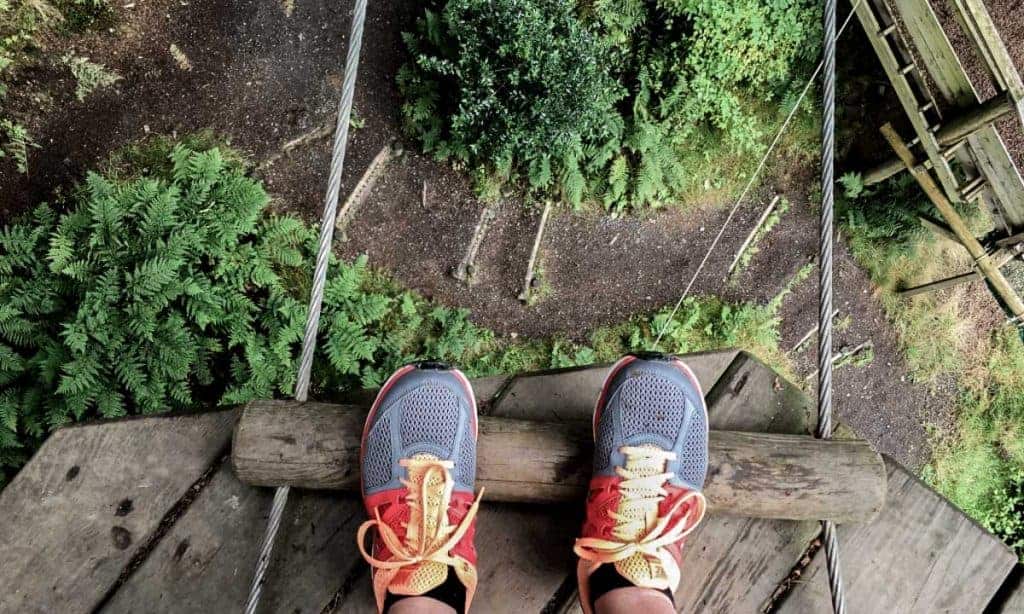 There are lots of things to do in Stirling with kids, but even more in the surrounding area too. You could easily base yourself here for a couple of days of your Scotland itinerary and find plenty of family-friendly activities to enjoy.
We've mostly listed nearby attractions, but it's perfectly possible to travel as far as Edinburgh and Glasgow as well.
Want more Scotland for families content? Check out these posts:
Sonja x