This post may contain affiliate links that I earn a small commission from at no cost to you. Please see my disclosure page for information.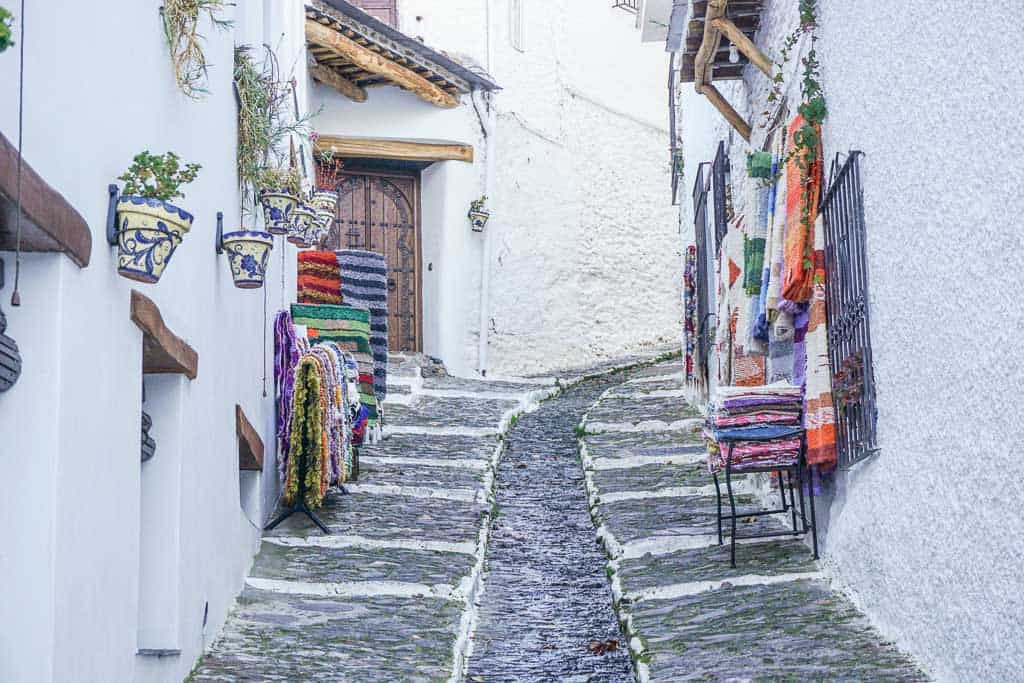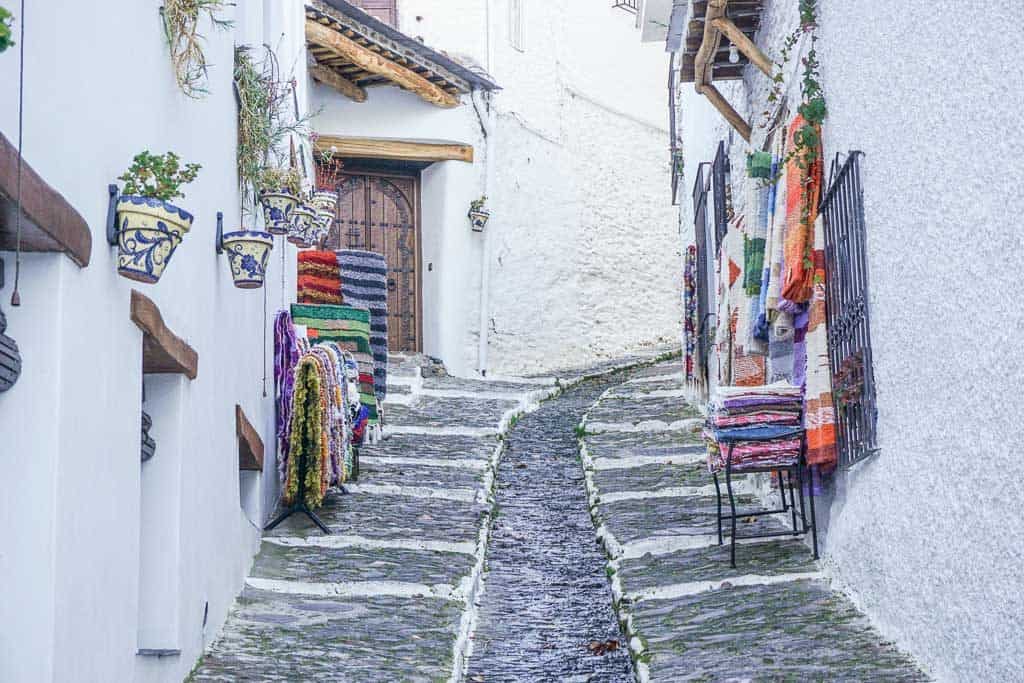 Naming Spain's most picturesque villages is a daunting task, given the size of the country and all the amazing little places there are to see. Instead, I've given myself the (still difficult) task of listing some of the most beautiful villages in Andalucía, and the best to visit!
During my year in Almería I was lucky enough to travel much of the southern part of Spain, and visit many of Andalucía's most beautiful villages there, including the famous white villages, from beachside towns to mountain hamlets. There are so many beautiful places in Spain and this area, especially Granada and Seville, but I find myself drawn to the Andalucían villages more often than the big cities.
Here's my list of the best villages to visit in Andalucía.
Pampaneira
Tucked away on the Southern side of the Sierra Nevada are the Alpujarras of Granada. These white villages near Granada city have retained their Moorish influences, and I think that Pampaneira is one of the best villages to visit in the Alpujarras. It's the first of a trio of the most popular villages in the Alpujarras to visit, with Bubión and Capileira hugging the slopes further above.
You can actually walk between all three, but Pampaneira is by far my favourite thanks to the water still running through the middle of some streets as it used to, and the sunny main square. This is how I imagined mountainous Spanish villages to be before I moved to Spain!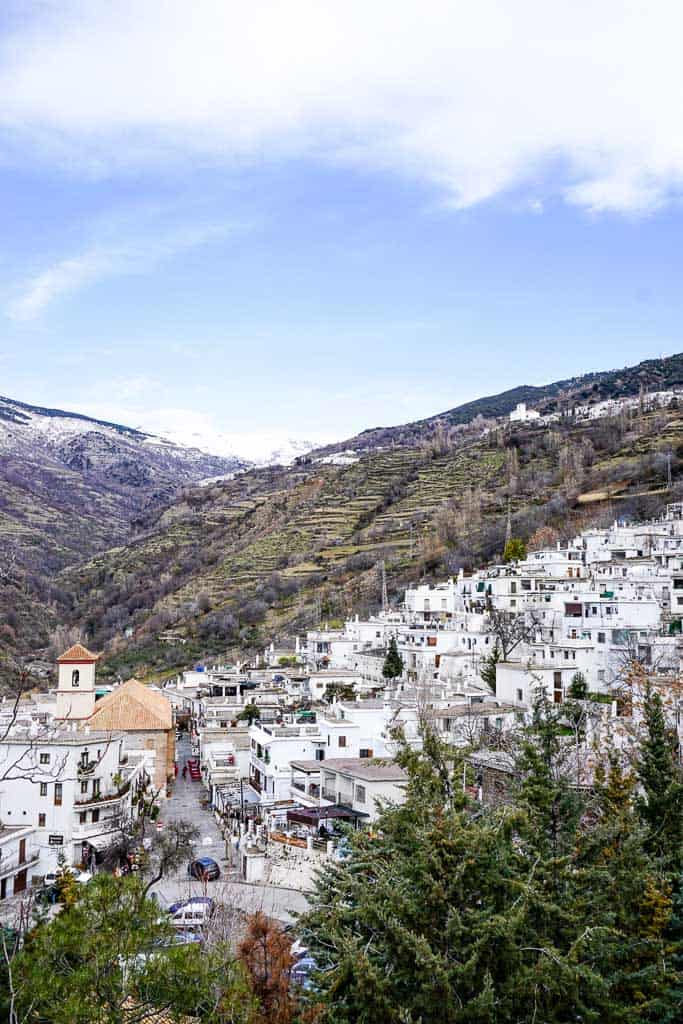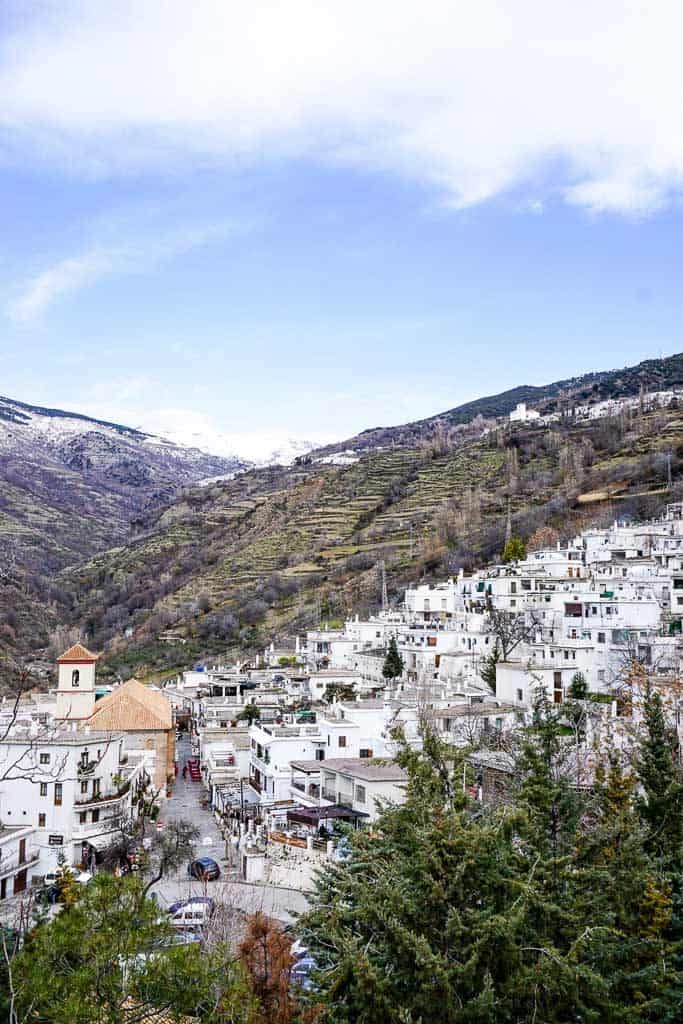 Mojácar
Mojácar is probably the most well-known village in the province of Almería, where I lived, as it's near popular resorts and not too far from the beautiful area of Cabo de Gata Natural Park. This white village in Almería province is so built up on a hill that it looks like the whole village is the hill, making it one of the most impressive of these beautiful villages to see from a distance. Winding narrow lanes with plant pots give way to wide open spaces with views for miles around, from the nearby sea to the mountains in the distance.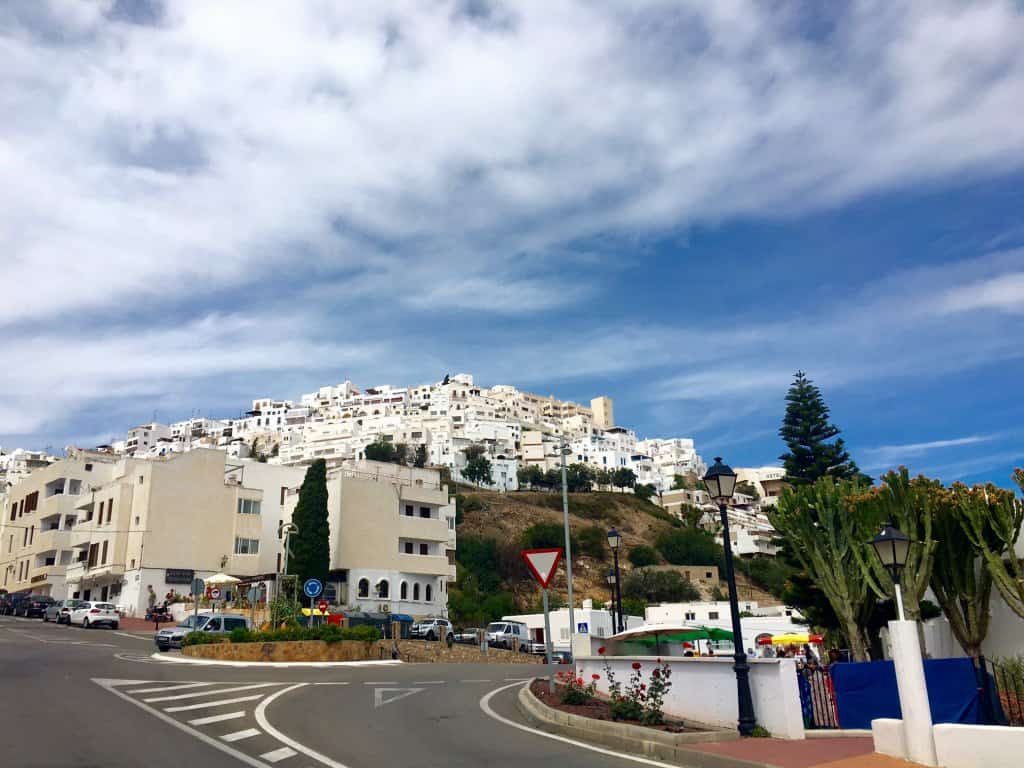 Frigiliana
My expectations weren't too high for this little village just north of Nerja, but since it's ended up amongst the best villages to visit in Andalucía you can probably guess that it ended up being a favourite! It's one of the traditional white villages of Spain that is near the coast but also feels like you could be somewhere in the mountains.
Due to it's proximity to Malaga and the Costa del Sol it's amongst one of the most touristy Spanish villages in Andalucía. Although there are many beautiful villages near Malaga, this is popular, it's one of my favourites. Head higher from the main square to see the narrow cobblestone streets, overflowing with pot plants and dotted with colourful doors. I sipped coffee under a lemon tree, with views out to the Mediterranean and I couldn't have been happier.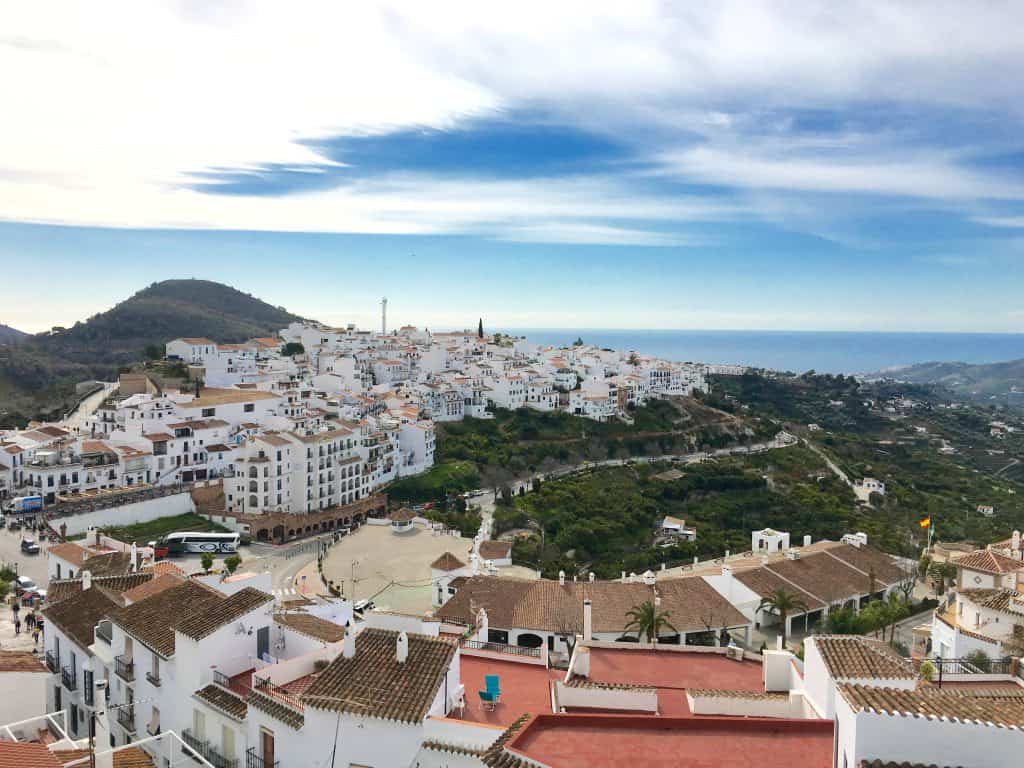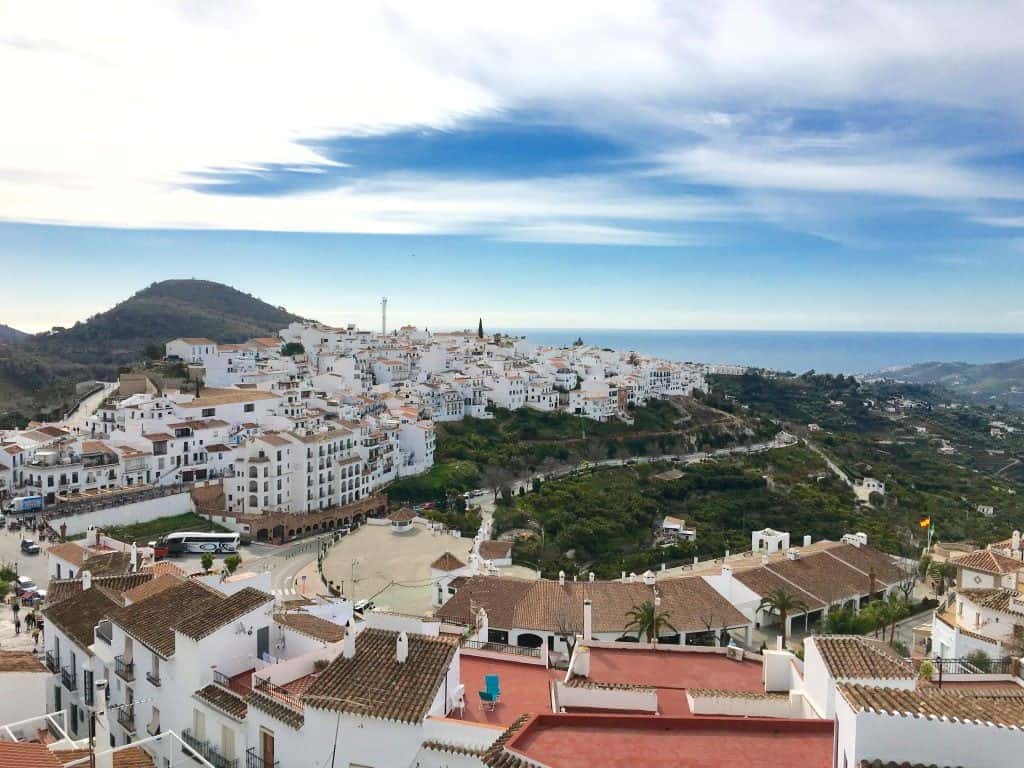 Lanjarón
The gateway to the Alpujarras, Lanjarón is one of the bigger villages in Spain on this must-see list, and one of the more famous although you might not have realised it. All over Spain, you can buy "Lanjarón" mineral water which comes from here. It's a spa town where you can indulge in treatments, enjoy the surrounding nature and explore the ruined castle perched on an outcropping, providing beautiful views of nearby hills and the town itself. It's a great spot if you want to visit Andalucía and get out of the big cities.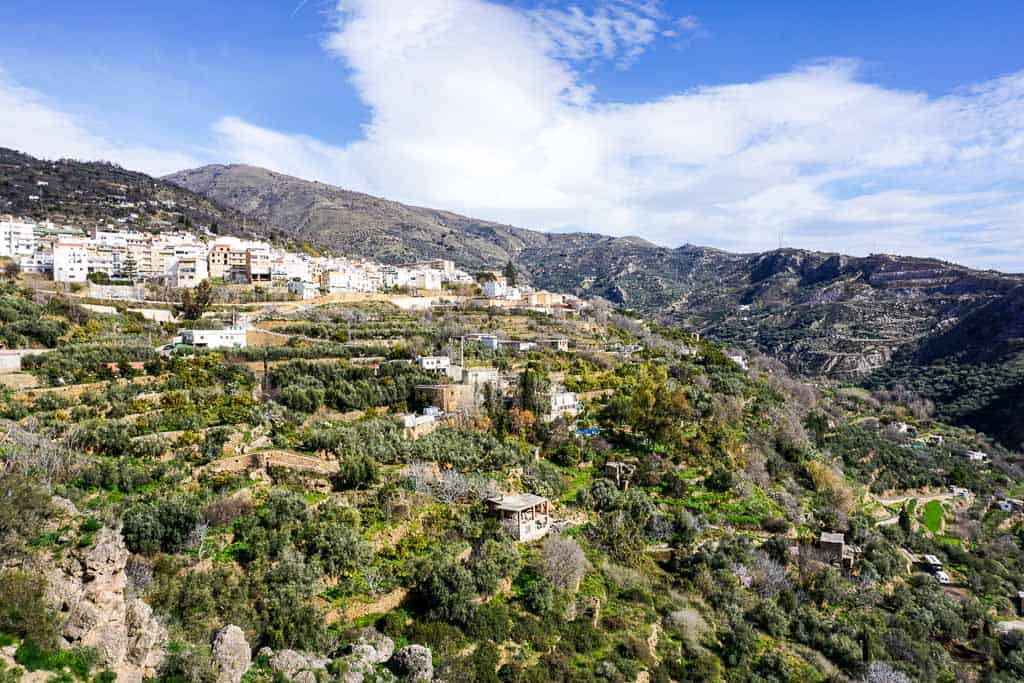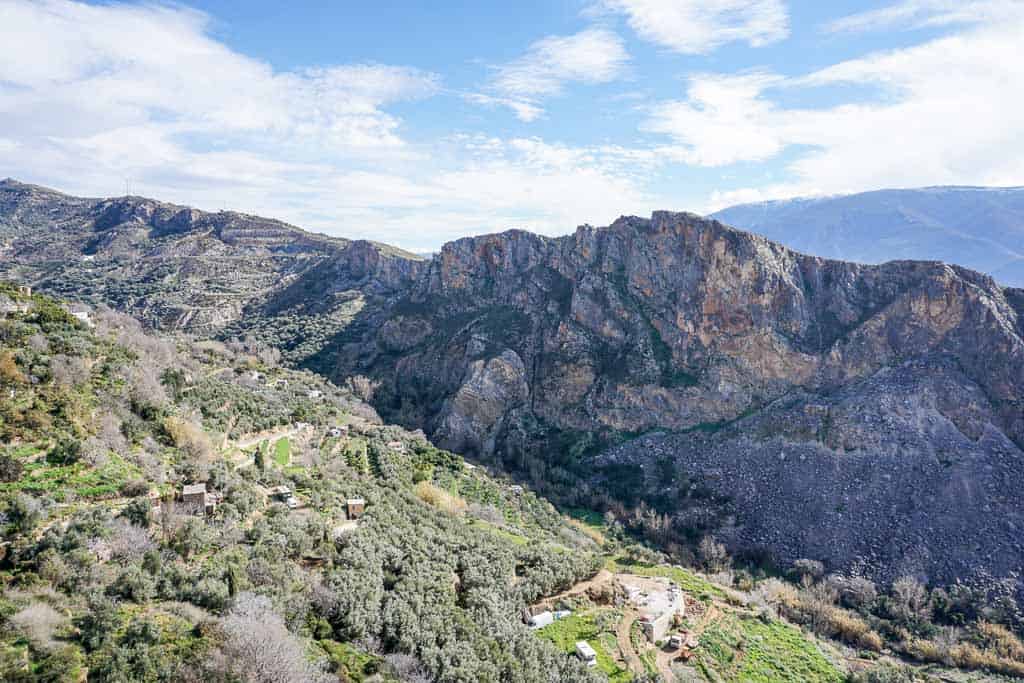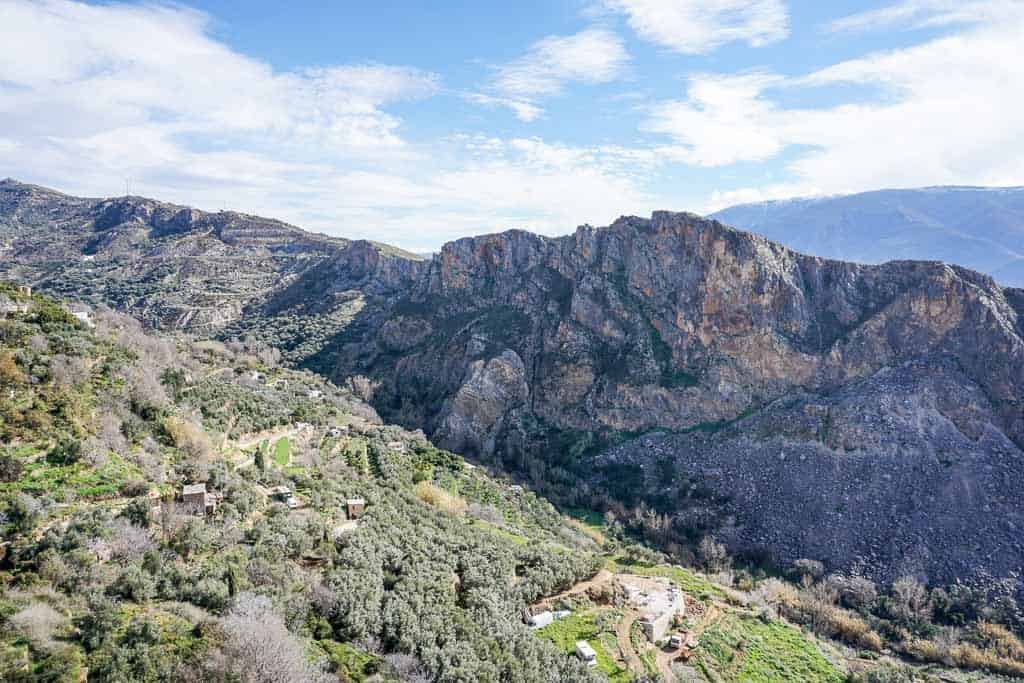 Salobreña
Salobreña has a history stretching back 6000 years. This whitewashed village (do you sense a theme?) is another that covers most of a hill and is crowned with a Moorish castle. This small town is very popular with expats and in the summer when its population more than doubles in size. It's easy to see why when it's so picturesque and Granada and Malaga are within easy driving or public transport distance, as are plenty of beaches along the Costa Tropical and the Costa del Sol. Sometimes it's the small towns in Spain that are the most popular!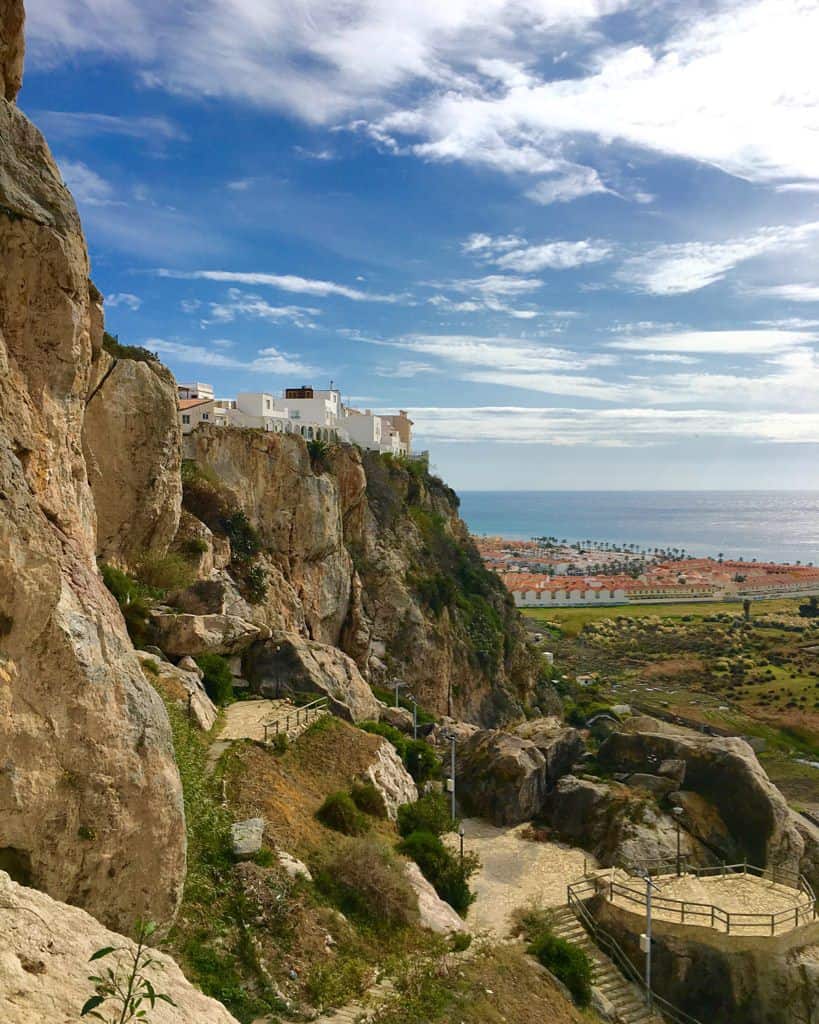 Trevélez
I couldn't leave out this village, even though I've already named two in the Alpujarras as some of the most beautiful villages in Spain (and I could have named many more!). Trevélez is the highest village in mainland Spain at 1,476m, and it's perched steeply on the side of a mountain. I visited in January after there had been some snowfall, and it didn't feel like being in Spain, but rather some other European spot in the mountains.
Many people discount Spain as a cold winter destination, but there are actually some amazing places to visit in the winter, not just for the winter sun!
Apart from the cured ham shops every 100 metres that is. The clear air is perfect for curing ham, and you can enjoy it in any of Trevélez's 3 neighbourhoods, bajo, medio and alto (low, middle and high), although the bajo is where the most touristy shops are.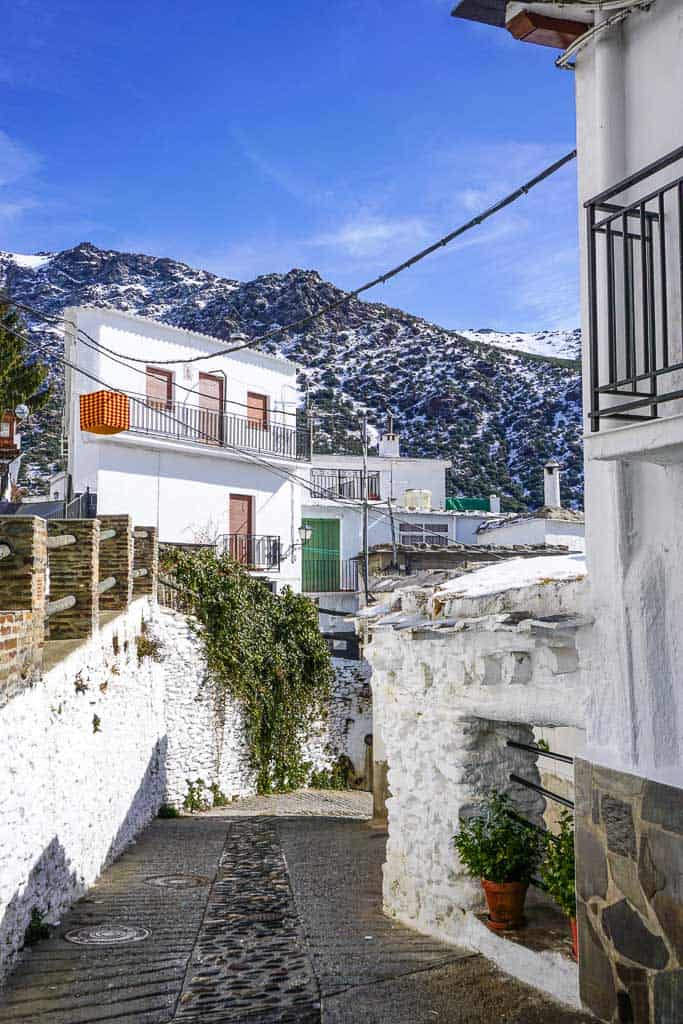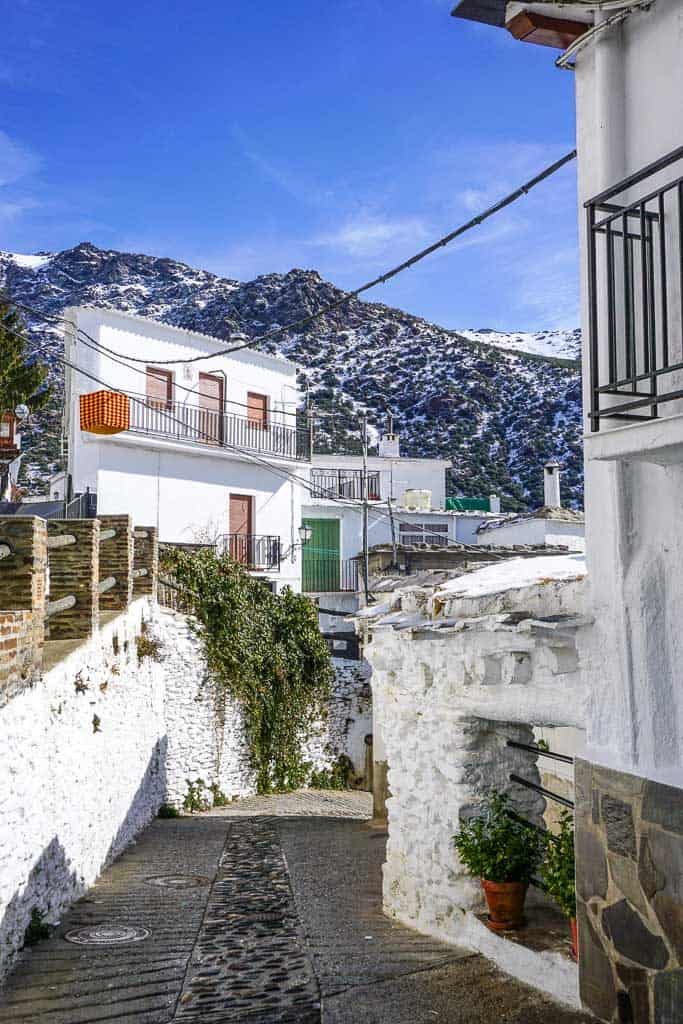 Ronda
Ronda is the town of romantics, their quotes about it are even displayed prominently near the famous bridge. I already wrote about how Ronda is Spain's most beautiful village, and although it's a hard decision I have to stand by it (I think… it's so hard to decide!). Ronda isn't like a typical whitewashed and Andalucían village like other villages on the list. It has wider streets and plazas, and even a bullring (the first modern bullring in Spain). If you include all of it, it is probably considered to be more of a town or city. The most captivating thing about Ronda and the reason it's one of the most beautiful villages in Spain is the Puente Nuevo, a stone bridge spanning the gorge that separates the old and new town, and offering stunning views across the valley.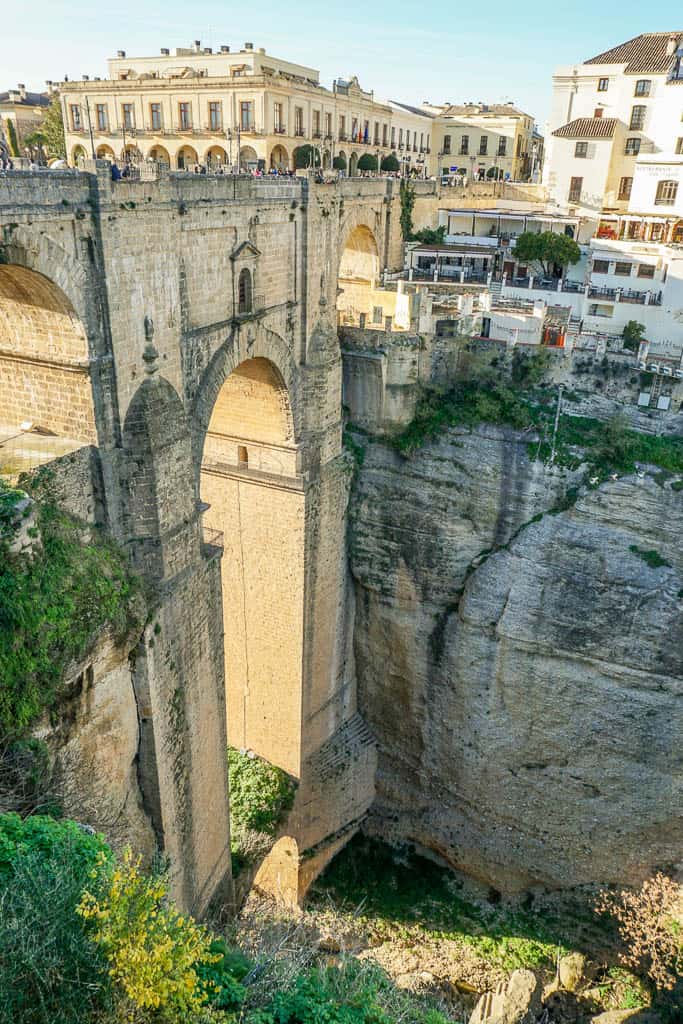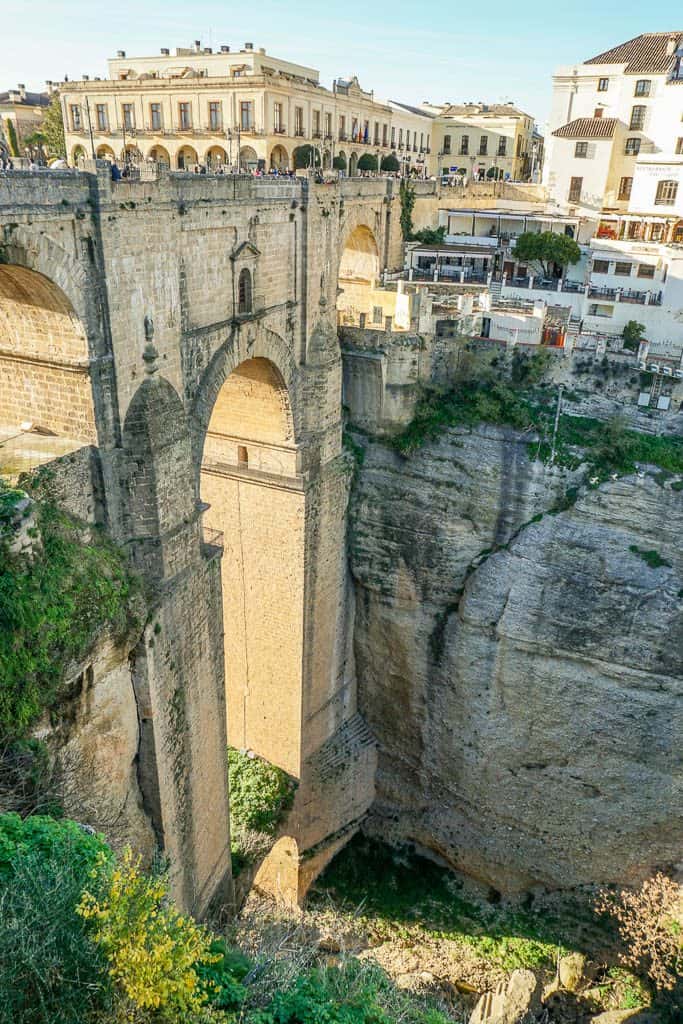 So there we go, 7 of the most beautiful villages in Andalucía, just waiting for you to discover them. I could have named so many more places along the coast in Cabo de Gata, more Spanish villages in the Alpujarras or places further to the west of Andalucía, but it's so hard to narrow it down. And this list doesn't include anywhere outside Andalucía, like villages around Madrid! But having to decide which beautiful villages in Spain to visit isn't exactly the worst problem to have…
Have you been to any? Or would you recommend somewhere else?
Sonja x
If you liked it, pin it!