Almería is a small city in the southeast corner of Spain, often overlooked as a tourist destination.
While many people flock to nearby Cabo de Gata and the beautiful beaches and small pretty towns in summer, the city of Almeria itself is often forgotten.
After moving to Almería to teach English and finding out that this city is underrated compared to the rest of Andalucia, I decided it's time I outlined what you can see and the top things to do in Almería and why you shouldn't miss these off your list!
In no particular order, here we go…
1. Visit the Alcazaba
The Alcazaba is an old walled fort and city that overlooks Almería. It was built in the 10th century by the Muslim people who ruled this area at the time.
When the city of Almeria was surrendered to the Catholic Monarchs Ferdinand and Isabella in the late 15th century, Christian additions were made. A 1522 earthquake destroyed much of Almeria and the city and the Alcazaba, but it has since been restored.
When you visit the Alcazaba, take time to wander around the beautiful gardens and take in the views of the city across to Cabo de Gata from the towers. Entry is free if you're from the EU.
Definitely, the top thing to do in Almería!
2. Tour the Cathedral of Almeria
The Cathedral of Almeria is unique because of its design. Most Cathedrals have a curved ceiling, but the position of the city and its turbulent history mean the Cathedral of Almería is built more like a fortress.
Construction started in 1524, and because of Almería's vulnerable coastal position, it was built with a flatter roof than usual cathedrals and fortress walls to protect against pirate attacks.
The Cathedral of Almería was used as a shelter for the people of the city when it was under attack during the Spanish Civil War too.
Visiting the Cathedral of Almería will only cost 3 euros for an audio tour which outlines everything you'll need to know.
I love wandering through the plaza outside to take in the unique design just as much.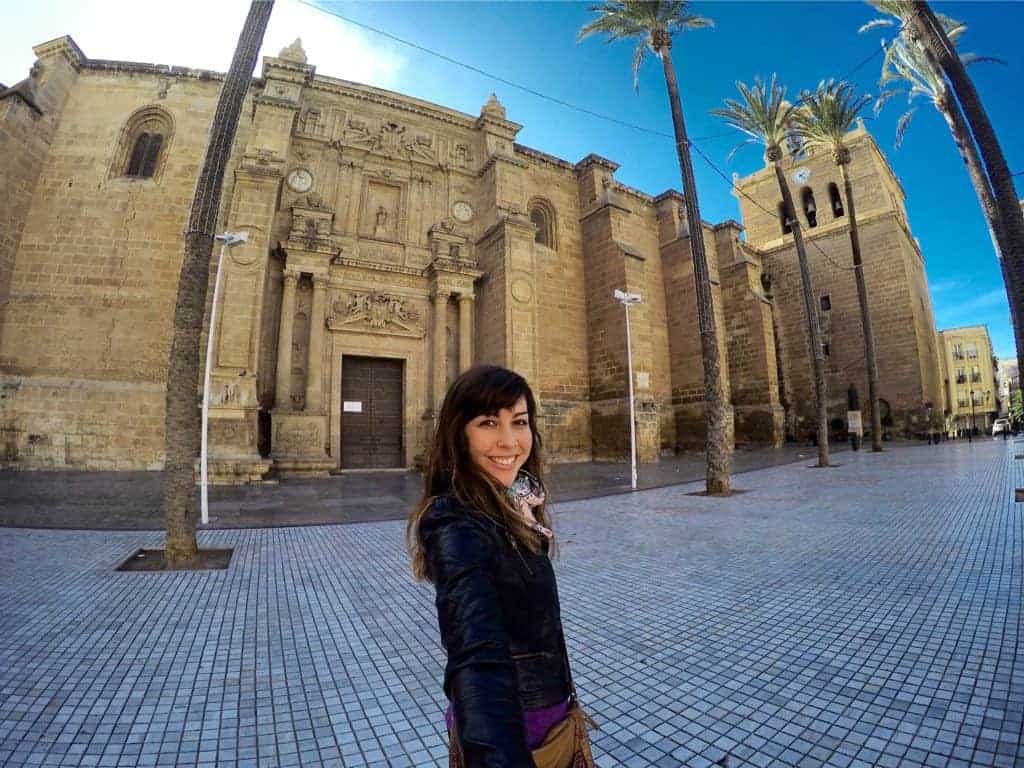 3. Visit the John Lennon Statute
As the story goes, John Lennon was in Almería filming "How I Won the War" when he wrote the Beatles song, Strawberry Fields, so now there's a statute of him there.
Many celebrities have been to Almería over the years, especially back when filming Westerns was super popular (see here for more about that!).
John Lennon is the only one to have been granted a statue and you can find him playing his guitar in Plaza de los Flores.
4. Los Refugios de la Guerra Civil
Los Refugios in Almería are tunnels 6 metres underground that date back to the 1930s and the Spanish Civil War.
The goal at the time was to have no more than 100 metres to the entrance of these tunnels from anywhere in the city, to protect the inhabitants when they were being attacked from the air and sea.
One of the main attacks was carried out on Hitler's orders before the breakout of WWII, in retaliation for the destruction of one of his ships in a Spanish port.
The tunnels aren't open very often, and you'll need to book in advance to secure a place, which you can do online here.
The tour is 3 euros but it's only in Spanish.
I'd still recommend a visit but read up about it beforehand to help you understand more about it. You can check out my post here.
5. Relax at Playa Zapillo
Most people who live here will speak about the beaches outside of Almería, in Cabo De Gata National Park but Playa Zapillo, the beach within the city of Almería, is worth a visit too.
Along the promenade there are restaurants, most with tables outside and glass-walled inside areas so you don't miss the beautiful views across the Mediterranean.
The beach itself is sand and small stones, and big enough to play games or find a spot to relax.
6. Climb to Cerro de San Cristobal and the Fortress Wall
Towering over the city, even higher than the Alcazaba, is the Cerro de San Cristobal.
There are no gates and, therefore, no cost of entry. You're free to explore the ruins of the wall and enjoy the view over the city of Almería and the bay.
It's a great spot to go for another perspective of the Alcazaba and to watch the sunset.
7. Walk down La Rambla
One of the main streets of Almería, with beautiful gardens and a path stretching down towards the sea. Take a break under the trees and people watch or wander down on your way to the beach.
Many locals use it as a meeting place, and you'll see children playing, friends chatting, and people going about their daily lives.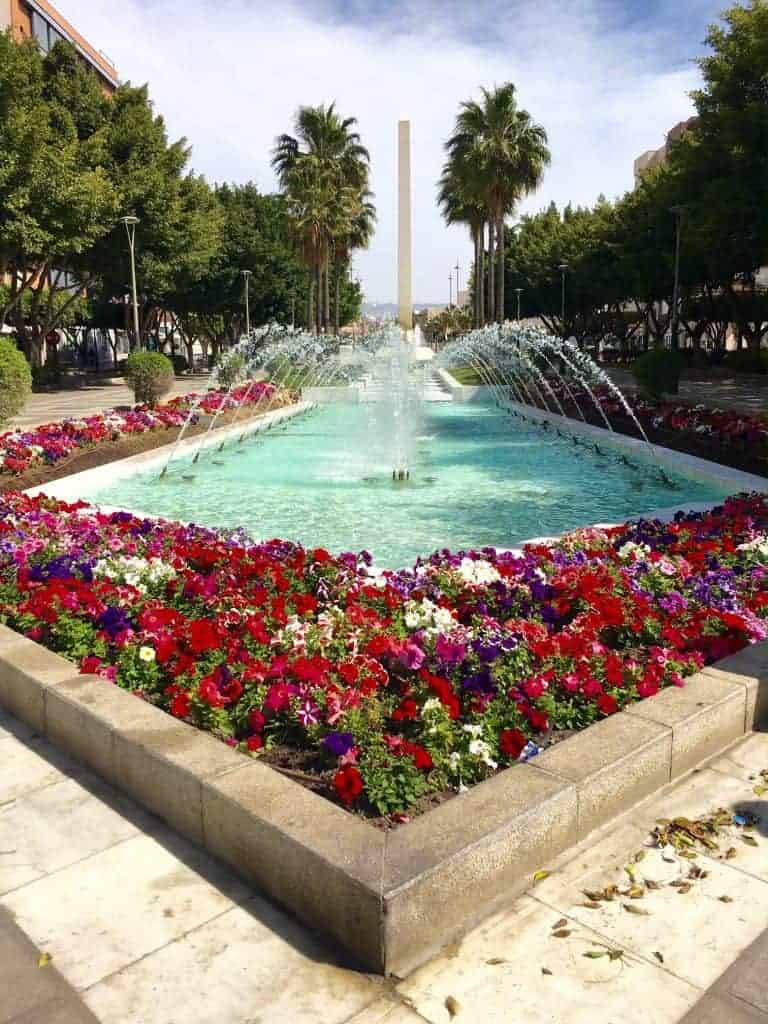 8. See the Cable Inglés
Built by the English in 1904 as a loading dock for minerals found in the area and designed by architects from the school of Gustave Eiffel, the architect of the Eiffel Tower, this huge structure dominates some of the harbour of Almería and is a reminder of the unique and varied history of the city.
Next to the Cable Inglés is a memorial in remembrance of the 142 Jews of Almería who were killed at Mauthausen after being sent there during the war.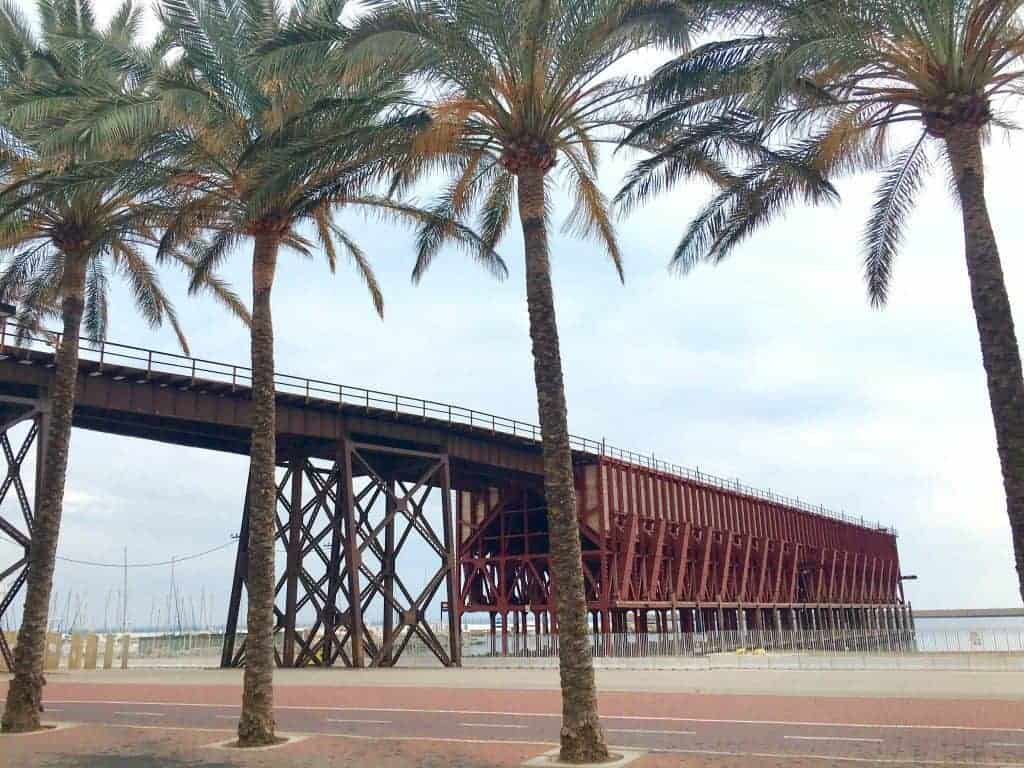 9. Casa del Cine – Cinema Museum of Almeria
You don't need to spend long in Almería to hear about the importance of cinema to the city.
So many films have been made here in the past, and television programs and films continue to be made here, including Game of Thrones. The barren landscape outside of the city lends itself well to different scenes.
The Casa del Cine is a house where some of the stars, like Clint Eastwood and Brigitte Bardot, used to stay while they were filming in nearby Tabernas and Cabo de Gata. Now at Casa del Cine, you can learn more about Almería and its link to Hollywood.
10. Go out for Tapas
Not exactly a "thing to see" in Almería, but a top thing to do!
Going for tapas isn't difficult, with almost any cafe or bar offering tapas around lunch and dinnertime. Order a beer or wine, and you'll be able to choose a small plate of food from a menu.
As a port city, Almería has some great seafood tapas. You can find places like Casa Puga with more traditional tapas, as well as those offering more contemporary options like La Mala and La Consentida. You'll find some of my favourite places to eat in Almeria here.
Looking to hit up more of southern Spain? Check out this one week itinerary for Andalucia!
Essential Amería Travel Info
The best time to visit Almería
The hottest months in Almería are July and August, followed by September. You'll definitely want air conditioning in your accommodation!
Visiting in winter will still give you sunny days but with cooler evenings and the need for some more layers.
How long to spend in Almería
You can see most of the attractions in the city within a day or two, but give yourself more time to enjoy the delicious tapas, relax at the beach, and even return to places like the Alcazaba or San Cristobel at sunset.
Where to stay in Almería
Almería airport is small, but a lot of travellers pass through on their way north to stay in the coastal towns on holiday packages.
Almería city itself is often overlooked as a holiday destination and a place to stay, but it's certainly worth staying there to see another side of Spain!
The area around the Paseo is popular or along Zapillo beach.
What to pack for Almería
Almería is one of the sunniest places in Spain, so you can expect there to be a lot of sunshine!
It does cool down in the winter months though, so be prepared to need some layers or a light coat, especially if you plan to travel inland at all.
Electronics
Mobile phone/Camera for photos – I use the Sony A6000, which is a compact mirrorless camera that's easy to use and takes great photos you can transfer to your mobile right away. Also, take an extra SD Card, Almería has beautiful views!
A plug adaptor – If you're from outside the EU, you'll need one of these for your electronics. I love how this one has USD ports too!
A power bank to keep your devices going while you're out all day – I have several of these ones.
Outfits & Accessories
Planning a trip to Spain? Check out these posts:
Have you travelled to Almería? Did I miss anything in the city?
Sonja x If you liked it, pin it!